When printing, you normally hit the print icon from your toolbar and let it go to work. However, doing so will print the entire document or web page. And, often times, you end up printing far more than you really needed or wanted, wasting time, paper and printer ink.
Perhaps you only need a section of the document or web page and not the whole thing. Why print out everything and waste paper? Instead, print only what you want.
Here's how to do it.
1. Highlight the segment you want printed.
2. Click File on the menu bar.
3. Choose Print from the drop down list (or use the Ctrl + P shortcut in Windows). The Print dialog box should appear (shown below for reference).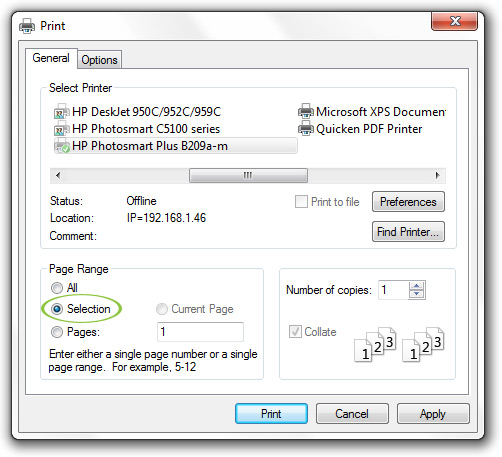 4. Locate the section that says "Print Range." Select the radio button for Selection.
5. Click Print.
If there is something you have always wondered how to do, let us know.  We are always looking for new ideas for our How-To Guides.