According to David Mihm's updated Local Search Rankings Factors, Review Signals account for a 10.3% influence in determining your site's local ranking performance.  When you do a local search in Google, it is no accident that many of the businesses graced with one of the seven coveted top local listings have reviews associated with their Google+Local page.
Let's take a look at this ranking factor in action.  A search for "apartment rentals in birmingham al" triggers the return of local listings in the search results.  In Google, these are the listings pulled from Google Maps, shown below as A-G.  Of the seven local results, six have reviews associated with their listing.  Having your business place among these top seven local listings puts you on page one of the search results and can translate into significant exposure for your business, without the cost of pay-per-click advertising.  To underline the importance of this placement, you can see in the graphic below that the #3 organic listing (apartmentfinder.com) places significantly below the set of local results on the page.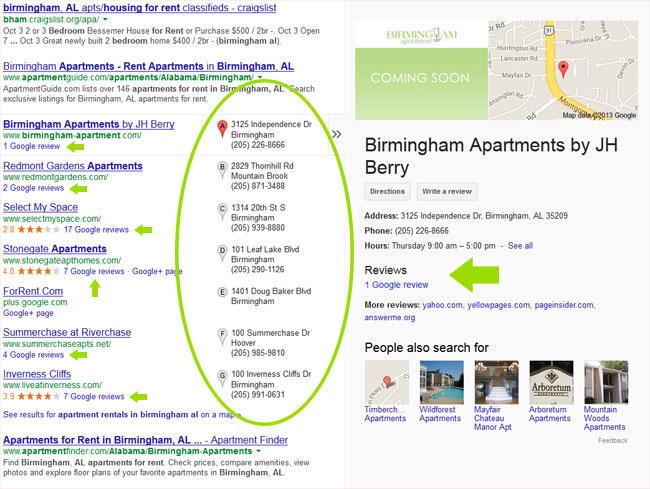 Building online buzz for your business is something that every company can work on without technical SEO expertise.  It just requires a little time and know-how.  We'll share some know-how below; you just have to put in the time.
Assuming that you offer high quality products or services and that you strive to keep your clients and customers happy, we suggest that you use a little follow-through to share your customers' happy experiences online. .  To help you get started, here are a few pointers to remain competitive and increase your search engine visibility:
As with many things in life, you've got to ask for what you want.  Your clients and customers are likely happy to take a few moments to leave a review for you if you ask.  Just after you've worked successfully with someone, follow up by email thanking them for their business and asking for the review.
Make it easy.  In your email asking for the review, make it easy for your customer by linking directly to your site's profile page where reviews are posted.
Be sure to spread out this activity over both time as well as across websites.  For example, instead of sending out a mass email to 50 customers, you would be better off sending one email a week, alternating each week between your Yelp profile and your Google+Local page.  By sending just one a week, you can make the email personal and specific to your relationship with that customer.  Develop a basic template for the email that you then customize for each recipient.
And beyond the ranking influence that reviews provide, good or bad reviews also drive consumer purchasing decisions.  As online consumers, we read and use reviews to make our own decisions. The same is true for our potential customers.  If, despite your best efforts to please customers, you do end up with a bad review, a steady stream of new, good reviews is the best way to counterbalance its effects.  The newer reviews show at the top of the list, pushing older reviews down and eventually off the first page.  While some websites allow owners to respond directly to negative reviews (Yelp), others do not (Google).  If you have the opportunity to address the reviewer's concerns, use it as a chance to make things right.  If not, your best bet is to outweigh the negative with new, positive reviews.
Taking an active role in this aspect of your company's online reputation makes sense any way you look at it.