How to Get Started With Pinterest and Become a Pro
If you're new to Pinterest, it can seem intimidating to create and maintain your own account. But it's actually a simple process and can be a lot of fun once you get started.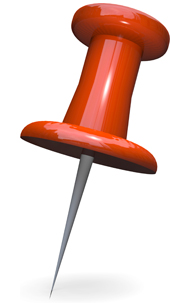 Before setting up your account, check out Part 1 of this article, "Is Pinterest Right for Your Business" to be sure having a presence on Pinterest can benefit your company.
If it's a fit, then you'll need to first set up a personal account before diving in with your own business account. This will give you time to follow other companies in your industry to see how they've used Pinterest for their business.
Once you've done research on your competitors, you can convert your personal account into a business account. (To convert your personal account to a business account, log into your account and visit the Pinterest for Business section.) Or, you might decide to keep your personal account and create a separate business account if you don't already have a following.
It is important to have a business account and not just a personal account because a verified business account will give you access to analytics information that you can use to plan marketing ideas.
Steps to Set Up a Business Account
Follow this simple step-by-step process to set up your business account. (You can start your account here.):
Choose your business type (e.g., professional photographer, public figure, magazine, local business, etc.).
Fill in all of the fields including contact name, email and password.
Then, fill in your public profile information including your business name, username, an eye-catching profile image, a short description about your company and your website address.
After your account has been set up, you must verify your website. It's important to do this because verified sites show up on profile and in search results.

To verify your site, go to your Pinterest profile, and click on the pencil in the bottom right corner of the name box. If you don't see the pencil, go to the menu in the upper right corner, select Settings, and go to Step 2.
Enter your web address in the web address field, and click verify. Follow the instructions on the next page of the site. You can verify by uploading an HTML file or meta tag to your site.

After site verification, you have to get the Pin It button. The Pin It button allows people to Pin things from your website or mobile app. You'll need to know very basic HTML to add this button to your site. Add the button next to things you want to share. We actually recommend not just adding the Pin It button but consider using Pinterest's widget builder to add the Pin It button automatically to any image on your site. This will appear when the user mouses over the image. See this example.
Once you've added the Pin It button and verified your website, you'll be able to access your web analytics. Analytics show what content from your website is most popular on Pinterest. The analytics should become your best friend.
Tips to Become a Pinterest Pro
Pinterest offers the following Pinning principles to make your Pinterest page a success (http://business.pinterest.com/pinning-principles/):
Consider what your Pinners care about before you get started. Review your web analytics to see what they like best or survey them.
Create a few boards to start your collection—use inspiring boards with beautiful images to draw people in.  Your boards should focus on a specific topic, such as recipes.
Show your Pinners what inspires you by creating boards that illustrate the ideas behind your brand.
Be genuine. Use your boards to show your personality, taste and values.
Once you've started growing your community, promote your Pinterest account, and showcase your Pins on your own site.
Check out these Pinterest success stories to see how other brands have benefited from Pinterest, including AllRecipes, Etsy, Lowes, WikiHow and more.