By Alli Summerford
April 30, 2014
Unlike Facebook, Twitter has always allowed profile owners to customize the look, including background image and color scheme, of their profile pages. Customization allows businesses to bring the branding styles and imagery they use in other marketing channels to Twitter, creating a consistent look and message. While that customization continues, it is now presented within a new profile layout. Most notably, the new layout includes a big, full-width main image. Starting in early April, they rolled out the new look slowly to select users, but as of April 22, 2014, the new profile design was available to everyone.
We'll use the Like Totally 80s twitter profile as an example.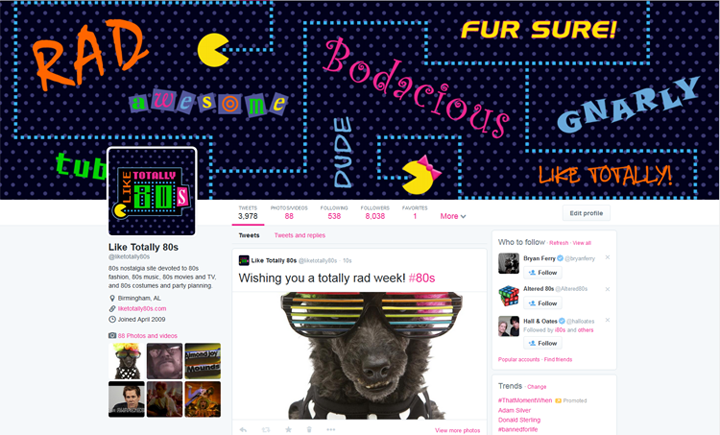 What's New
Here are our three favorite features of the new and improved Twitter profile design.
The Big Image
The new big image is fun and good looking and gives you an easy way to regularly update your profile to share what's current with your business or brand. You can see in the example above that the big image focuses on imagery used in the branding of the site. Of course, you can also use photography to great effect. Just remember to select an image that works well in a horizontal layout.
Best Tweets
Your tweets with the most engagement appear slightly larger in the feed so that your best stuff is the easiest to find. You can see in the screenshot below how the tweet about the pictures from 1983 jumps out due to its slightly larger presentation. This process is automatic based on user engagement with your tweets. Unlike the Pin a Tweet feature described below, you don't have any control over this one.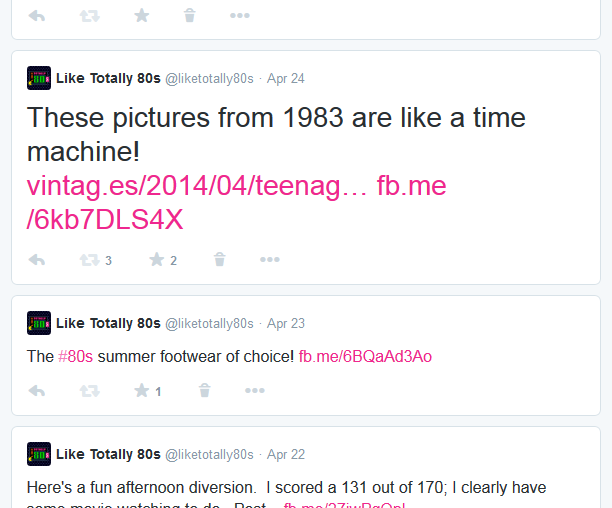 Pin a Tweet
You can pin one of your tweets to the top of the profile to emphasize a particular message or content. This functionality offers a great way to feature an event, contest, or news about your business. To pin a particular tweet (which just means to stick it to the top), simply click the three dots for "More." You'll then see a drop down with 3 choices, choose "Pin to Your Profile Page." This process is shown below.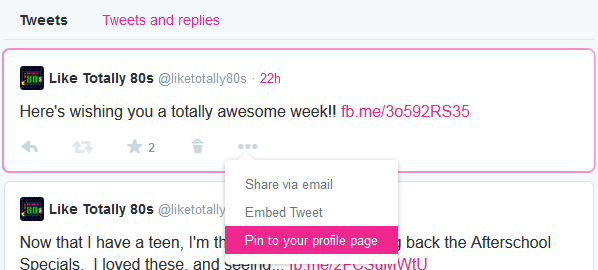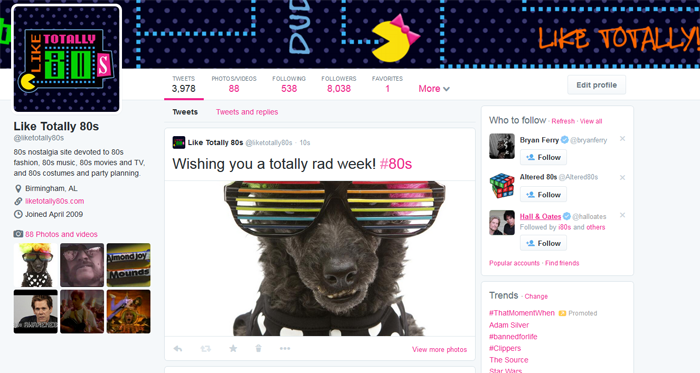 Make It Happen
For now, for existing profiles, the switch to the new layout is manual. When you log into your account, you will see an invitation to make the upgrade. You'll need to have your main image ready before making the switch. It needs to be a horizontally-oriented image that you can size to 1,500 by 500 pixels.
If you need help with sizing your new profile image or making the switch, just let us know.