As you make to-do lists and set goals for your business for 2016, don't forget your website. It is your frontline ambassador. It is often the first touch point that a potential customer has with your business. As such, it needs to convey the right message in this first interaction, or you may not get a second chance. If you are not sure if your site needs to be included in your 2016 business goals, consider the following website checkup list. If you answer "yes" to all three questions, you are in good shape. You can focus on continuing to add new, unique content to your site and let it do its thing. If, however, you are not able to answer "yes" to one or more of these checklist items, it may be time to devote some resources to one of your most important business tools.
Is Your Website Mobile-Friendly?
If not, it is now time. Mashable dubbed 2013 the "Year of Responsive Design," and Google started including mobile-friendliness as a ranking factor in April of 2015. If you have not yet committed to a providing a mobile-friendly website, you are now late. Make this update a 2016 priority.
The age and build of your existing site will determine how easily you can make the conversion to mobile-friendly. Google has an online tool that will check your website, which you can find it here. We are happy to assess your current site to determine how easily you can incorporate Responsive Web Design (Google's preferred approach to mobile design). Click here to learn more about Responsive Web Design.
Is Your Site Content Up-to-Date?
Are the team bios, company news, and product and services sections on your site accurate and up-to-date? Site users make an assessment about your company based on your site content. If your last news post was from nine months ago, that sends an unintended message you don't want. In addition to the perceptions of your site users, the search engines make a judgment about how relevant your site is to searches based on the freshness and quality of your content. Out-of-date content is more harmful than you might imagine.
Luckily, it is the easiest of these checklist items to address. Even if your site fails the other two items on the checklist, you can always update the content on your existing site, usually with little time and money expended. Navigate your entire site, page-by-page, and make a note of all the updates it needs. After bringing it up-to-date, develop a system for going forward that ensures that it stays current by assigning it to someone on your team and requiring that they regularly present their progress.
Is Your Website Design Still Fresh?
The website design (the look, feel, images, layout, font styling) that you loved when it was new three or four years ago can seem tired and out-of-date quickly. It is, unfortunately, the nature of the medium. The lifespan of even the best web design is finite and much shorter than most business owners would like. Design trends and standards are in a constant state of evolution.  While it is cost prohibitive for most small businesses to re-design their website every year, it is important to review it critically each year to determine how it stacks up to your competitors. When you visit your competition's websites, do you perceive yours as better or worse? Put yourself in the place of your customers, which website would you prefer?  Which presents the most persuasive information in the easiest to use format? You want to ensure that your website represents your company well in the marketplace. When it is no longer doing that, it is time for a fresh approach.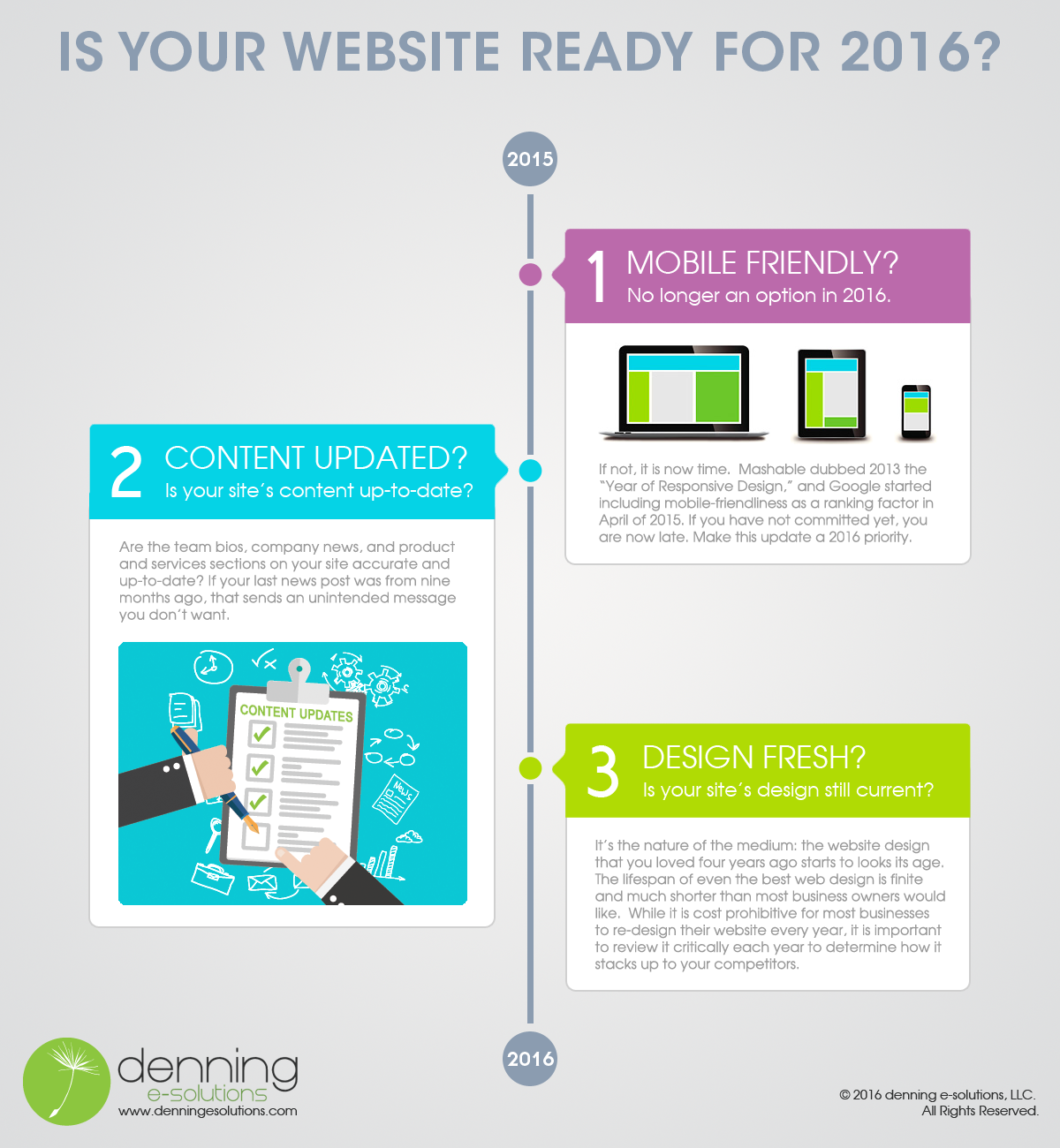 If after reviewing your website against this website checkup you feel that it may be time to pay attention to one of your business's hardest working assets, we'd love to talk with you about options and how we might help.  All the best to you and your business in 2016!