We were thrilled when our client, Shades Valley Dermatology, came to us to update their branding and website. As Dr. Flanagan's practice grows, she recognized the need to stay fresh and ensure that her marketing stays ahead of her practice growth.
We started with the branding work as it would then drive the look and feel of the updated website. We created a new color scheme that has a softer, more muted feel. The graphic element of the logo (as well as the name of the practice) comes from the mountains and streams of our own Shades Valley here in Birmingham. We then expanded that idea by incorporating graphic elements related to the natural elements of the area. The natural leaf elements provide an attractive complement to the logo and convey a feeling of growth and renewal, important concepts in healthy skin and a dermatology practice.
To ensure that the client could easily implement the new logo and related branding elements, we created a Branding Board that collects and defines all the aspects of the brand together (logo, logo alternates, color, font, graphic elements, photography). This allows the in-house marketing staff to create a seamless brand across all marketing tactics, both on and offline.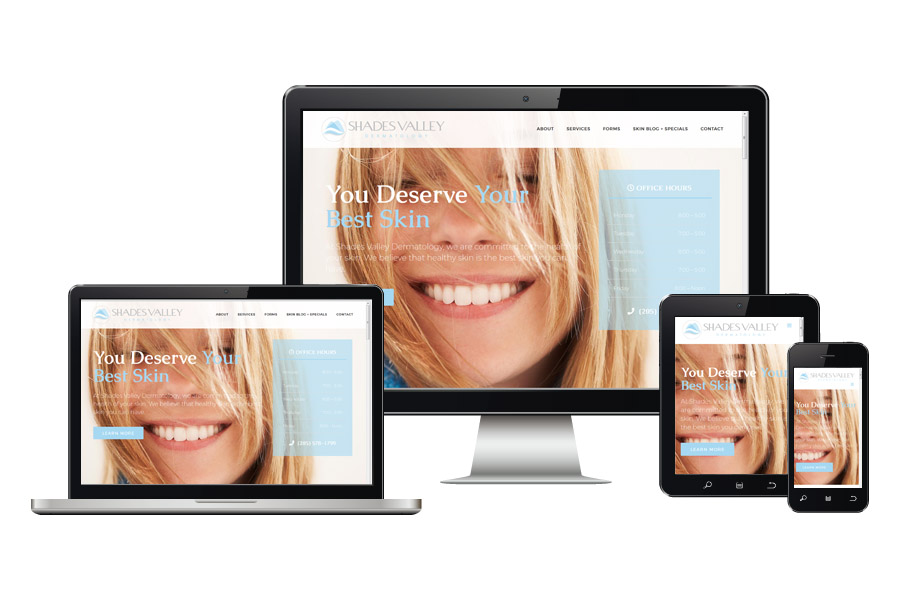 We had such a great time working on this update with SVD! Now that the look and feel of the new site is live, we will turn to online marketing to ensure that we maximize their online reach and visibility.
Here is what Shades Valley Dermatology had to say about working with us on this refresh.
The team at dandelion marketing is truly amazing! They did a fantastic job making our vision of our website become a reality. They are dependable, knowledgeable, and excellent at communication – making sure everything is exactly the way you want it to be. I would highly recommend them, you will not be disappointed! — Practice Manager, Shades Valley Dermatology