Here's a piece of good news for small business owners: Google just made it easier to ask for reviews for your business by providing an easy to copy and paste URL straight to your profile's review section.

This update represents an enormous improvement over the previous method that was a 3-part process that required you build your own URL after first finding your Place ID, thus serving as a barrier to most folks. The new URL is found right in the main Dashboard screen of your Google My Business profile once you are logged in as the owner.
Here's what it looks like in your Dashboard: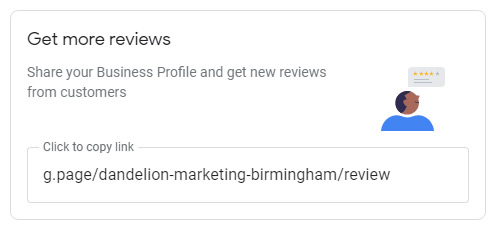 It's found on the right-hand side of that main Dashboard screen. Simply copy the link and then use it to ask customers to write reviews.
Please take a few minutes to read Google's suggestions about asking for reviews for your business. Here are few of the important takeaways:
Be sure to verify your listing in Google My Business – this is the first important step.
Reply to the reviews you receive.
Do not offer any incentives to customers for leaving reviews.
We recommend building the review request process into your follow up with customers. After you finish a project or service and send a thank you email, include the request and the now easy-to-find review URL in that final step of the sales and customer communication process.