We have many clients that have been with us for a long time. We are so grateful for those relationships, and it our goal to form a long-term partnership with every client. Pine Ridge of Alabama is one of these long-term clients that we have enjoyed working with over the years. We built the first website for this quail hunting plantation in south Alabama over 10 years ago. In the intervening years, website technology and requirements have changed significantly. So, we were very excited when Pine Ridge was ready to invest in an overhauled website.
We had four primary goals in developing the right project scope for Pine Ridge:
Mobile-friendly and secure;
Easy for the client to update with new pictures;
Updated design, using their new logo and a more modern layout with larger images;
Affordable.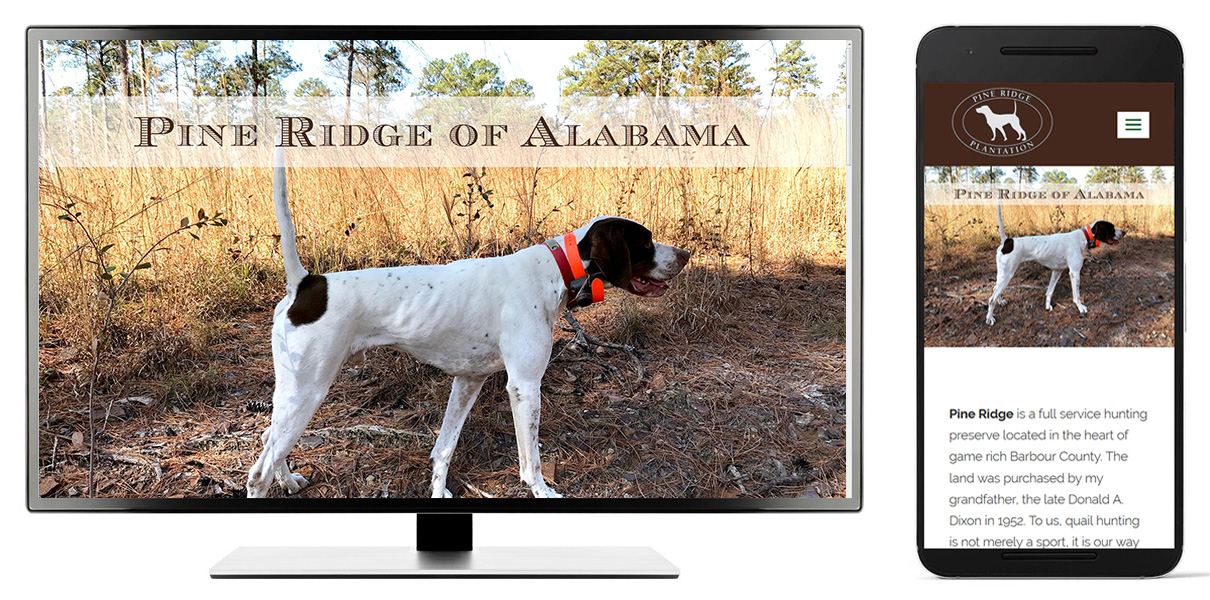 New Functionality
The first item on the requirements list focuses on updating the functionality of the website to take advantage of new web technologies that have become available since the last redesign. Having a mobile-friendly and secure site not only improves usability, both functions are now factored into how Google ranks websites making them must-haves, not nice-to-haves. We built a semi-custom responsive WordPress website that displays and functions well on all device sizes and installed site security as a part of the relaunch. Learn more about why each of these functions matters here.
Design + Cost
A website designed a decade ago will look downright old-fashioned at this point. And out-of-date is likely not among the adjectives you'd like associated with your business. For Pine Ridge, this meant using bigger images and the gallery function in WordPress to showcase their beautiful property and its amenities. Because the photography was so good (a gorgeous rural farm property and very handsome hunting dogs), we were able to keep costs down by keeping the site design and layout fairly straight-forward, allowing the images to make the impact. The easy-to-use content management system (CMS) in WordPress makes it easy for Pine Ridge to update the images within their gallery on their own using any browser.
The resulting website allows them to best feature their property and takes advantage of today's web technologies, all within a small business-friendly budget.