I've enjoyed working with the gals at New Waters for years. We met several years ago when we designed and built a site for their real estate development in Pike Road, AL, The Waters (which is gorgeous, and you should check it out!). I was thrilled when they asked me to help with their realty company website. We launched the new site just before the New Year so they could start 2020 in style.
We just completed a second site with the team at Dandelion Marketing. We were on a time crunch to create a new site for New Waters Realty. They came through ahead of schedule, and our site is absolutely wonderful. We love working with them! – Jessica Powell
New Waters had a logo and basic branding in place, including their signature colors of blue and green. We rounded out the branding side of things during the design process for the new website to include an accent font that can be used in a wide variety of marketing, both on and offline. Be sure to check out how well they carry over the look of the website to their social profiles – @newwatersrealty. Give them a follow while you are there!
They needed a site that ties into the data feed of the local MLS while providing a custom design and functionality in the property listings pages. We also tied the in-house listings to the agent bios, giving the individual agents a great way to share their information, listings included, with prospects. Real estate websites present unique challenges in the variety of ways that the listings can be built and updated. We worked with Dataperk, a frequent partner in programming, on the MLS feed. They developed an in-house plugin for WordPress that made the integration with the outside data source efficient and flexible.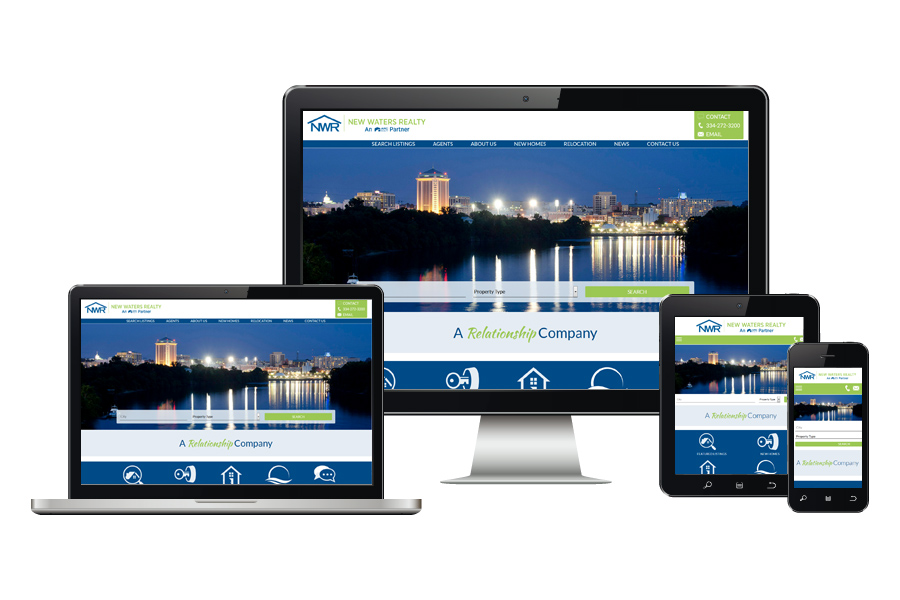 We are thrilled about the new site and the opportunity to work with this great client on a second website.