For Your Small Business Using Google My Business
Are you the owner of a small, local business? This series is for you! This is our way of helping all the small businesses out there. This time of business interruption is the perfect time to tackle this kind of important project.
It is our mission to share what we know in order to help fellow small business owners remain competitive in this tough time. So please ask us questions if you run into anything as you make your way through these 5 things.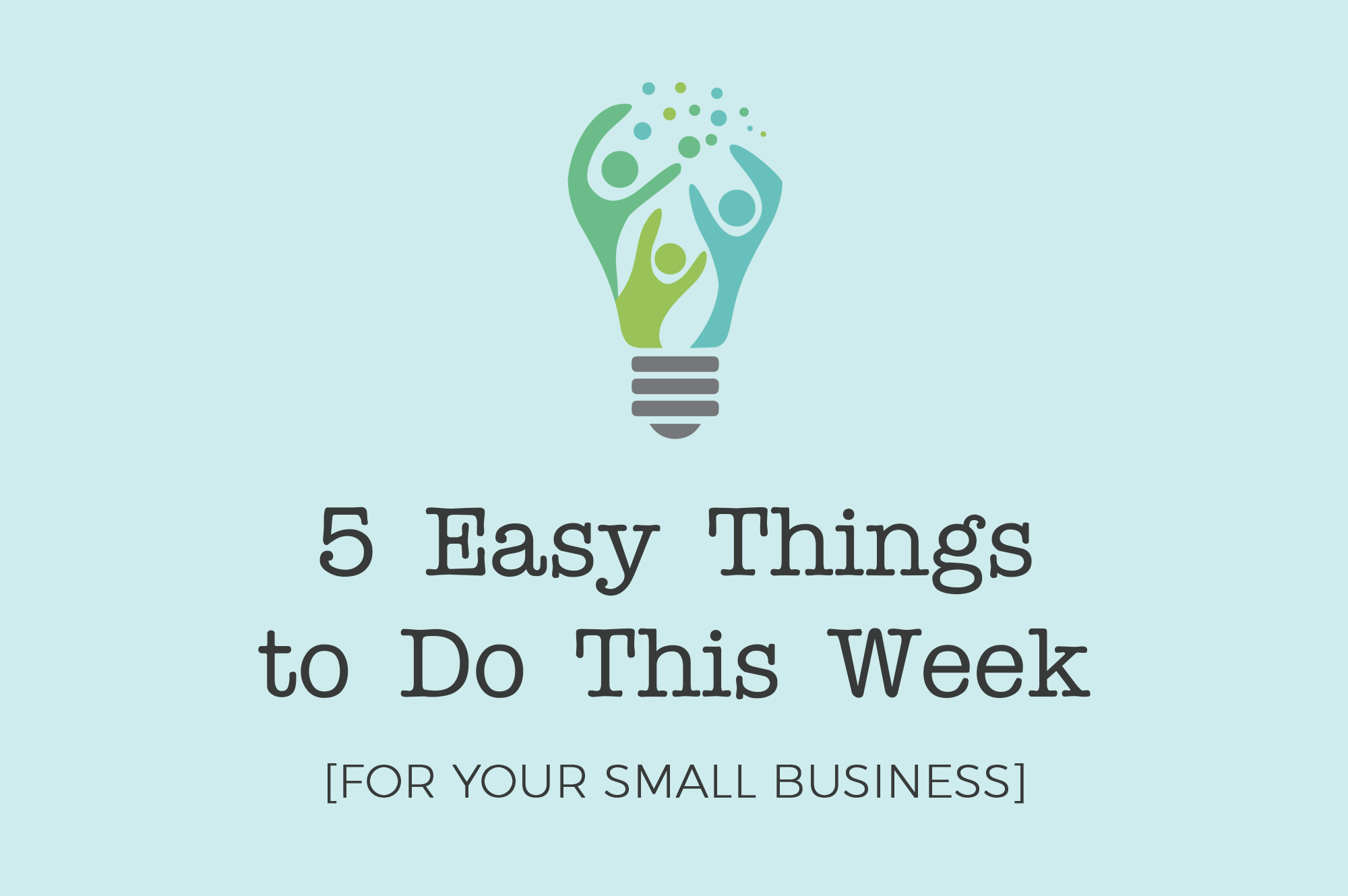 Easy Thing #1
If you have already claimed your Google My Business (GMB) listing, use today to verify that you are able login successfully. That's it for you today! How's that for easy?! Check back tomorrow for your 2nd easy thing.
If not, that's your task for day. Here are the steps:
Go to business.google.com and search for your business name.
If it has never been claimed, proceed through with that process using the onscreen instructions. Be sure to use the same google account that you use for other google products for your business, such as analytics or google ads.
If it says it has already been claimed, this is a little harder, but still doable. It will show you a snippet of the email address they have associated with the owner. Here's hoping you recognize it. If so, login with that. If you don't recognize it, you follow the link to requesting access.
Let us know if we can help! I am happy to answer any questions you have! DM questions, and good luck!
Easy Thing #2
Your second easy task is to review, edit, and augment the Info tab in the dashboard of Google My Business. Once logged in (you did get logged in already, right?), you'll see the Info tab down the left-hand side. This will be where all the contact, business category, hours, and description information is housed. You've two things to tackle here:
Make sure all the existing information is correct;
Add any missing information. Please note that Google allows a decent amount of copy in the business description – use it!
So easy, but SO valuable to your small, local business.
Easy Thing #3
Your third easy thing to do involves responding to your Google reviews. Whether they are good or bad (actually, ESPECIALLY if you get a less-than-awesome one), login and post a reply. Your replies as the business owner are public alongside the original review. This is your opportunity to be grateful to your clients or to address head-on any issues that led to a negative review. If the public sees that you care and are trying to do everything possible to resolve the issue to the customer's satisfaction, it can reduce the sting and damage of the review.
Need some compelling reasons? Here are 3 great reasons to respond to your reviews. Go ahead, login to Google My Business and reply to a few. It will only take a few minutes!
Easy Thing #4
While you are in there doing your number 3 item (replying to your reviews on google – you are working on that, right ;)), go ahead and tackle the 4th easy thing to do: add photos to your Google My Business listing.
When logged into GMB, choose the Photos tab from the left-hand side menu and then upload by groups (shown as tab options across the top of the Photos window). They include Team, Interior, Exterior, Products, Branding. Upload as many pictures as you have so that people can see your business!
Easy Thing #5
Your last easy thing to do for your small business is to add a Post to your Google My Business listing. Simply choose "Posts" from the left-hand menu in your GMB dashboard. You'll need three elements: an image, your text, and a link or CTA (call to action). For the latter, you can link to a blog post or use their call button, which will dial the phone number associated with your listing if the user is viewing your post on a mobile device.
This easy thing, along with numbers 3 and 4 above, needs to be done on a regular basis. The lifespan of a Google post is only seven days. Be sure to add Google Posts into your process of social sharing of news, blog posts, and social media marketing.
Bottom line: the more you interact with Google My Business, the harder it will work for your business.
That's it! Did you make it through the 5 Easy Things to Do? They are absolutely worth your time – the resulting increased visibility in Google's local search results will be working for your business 24/7 without any ongoing paid advertising costs. This is of real value to your business; it just requires a little time and attention on your part.