Online Marketing Lessons, that is.
Let's have some fun today. I am fully aware that I just outed myself as someone that considers an article about online marketing using Vanilla Ice as an instructive tool as "fun." Here's hoping you're just that type of person too.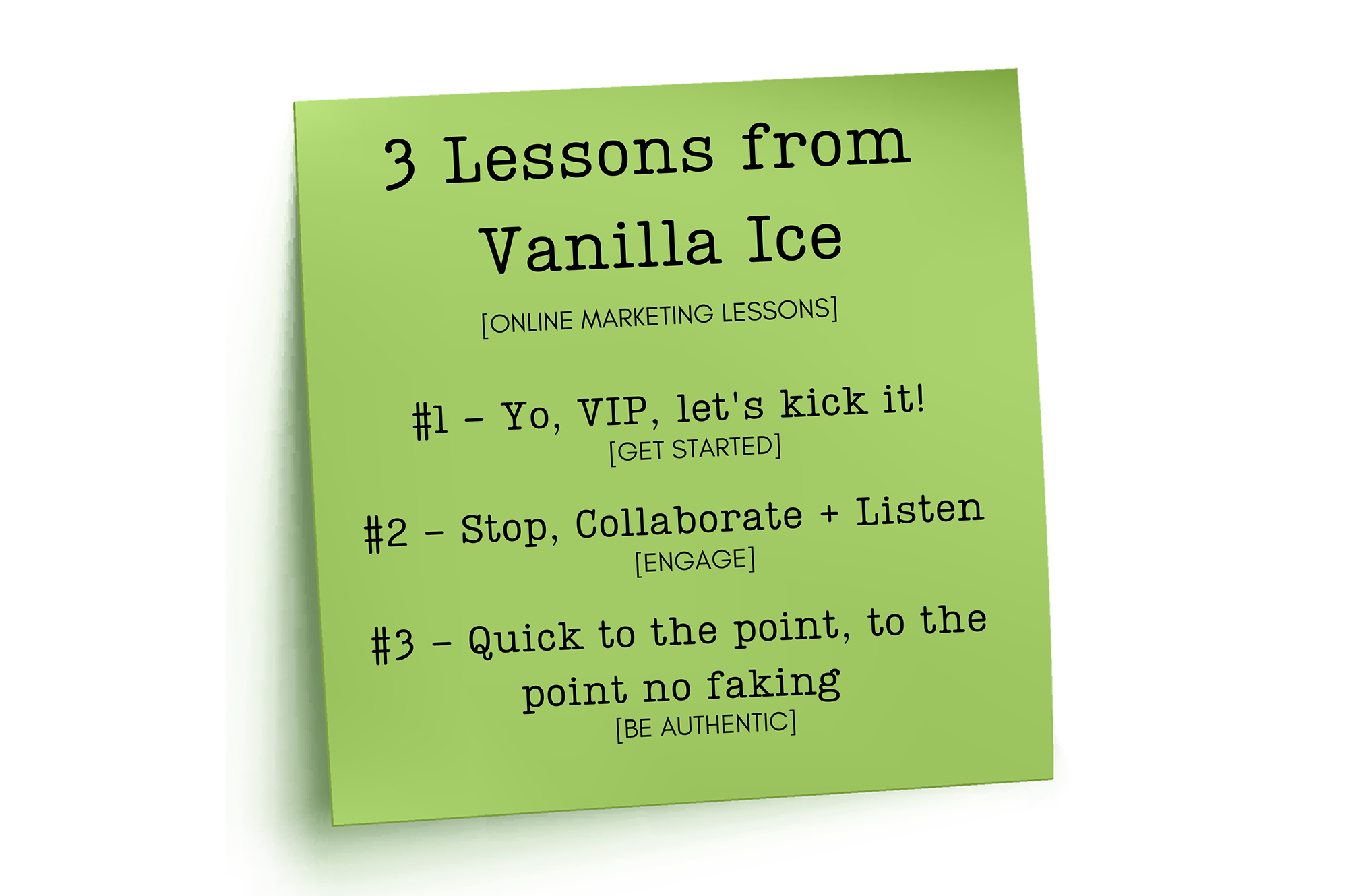 One obvious bonus of the whole WFH situation is that volume is no longer a thing. Your work music can be as loud as feels right, and you can sing along to your heart's content. In that spirit, I encourage you to crank it to 11 and give this gem (yes, I'm calling it that) a fresh listen.
Ok, I think we all feel better now. I know I do. Now that we have our frame of mind properly musically adjusted, let's turn to the topic at hand—online marketing. Aside from its bootie-shaking opportunities, I suggest here that Vanilla Ice can teach us three important lessons in how we market our businesses online.
Yo, VIP, let's kick it
These are the exact lyrics that Mr. Van Winkle (that's Rob, not Rip) uses to start off his chart-topping ditty. I hope he will forgive me if I paraphrase them a smidge for our purposes. The call to action here could be re-phrased as, "Hey, business owner, stop procrastinating and dive in." Good message. Whatever your online marketing goals, you've got to commit to getting started. Channel his motivation, and kick it.
Summary: Get Started
Stop, Collaborate + Listen
You can't read that heading without singing it in your head, can you? Once you're kicking it–that is, once you've committed to making online marketing a key piece of your business's overall marketing plan, now it's time to engage in the process. "Collaborate" and "listen" perfectly describe what differentiates online marketing from traditional marketing. In the ancient land of yellow pages ads, print ads, and TV advertising, it was a one-way push of information from the company to the customer.
With online marketing, the objective is engagement. You seek to both reach AND connect with your audience. That connection involves relationship building through conversations, follows, comments, likes, and mentions. All of those things happen in a two-way flow. You are not projecting your pitch out into the void and hoping that your message lands in the right place. Instead, you are actively and intentionally connecting with your customers and potential customers in ways that interest, support and help them.
Summary: Engage Meaningfully
Quick to the point, to the point no faking
This final lesson is a good one. To further quote this seminal work of 90s rap, "Bumper to bumper, the avenue's packed." Which is to say, the competitive landscape is tough and crowed out there. With thousands of businesses online vying for the attention of your customers, you've got to figure out a way to stand apart. The best way to do that is to be authentic to your business, brand, and culture. Show your personality. No faking!
Summary: Be Authentic
There you have it: 3 online marketing lessons inspired by the artistic stylings of Vanilla Ice.
I would love to talk online marketing ideas with you for your small business! Reach out and let's develop a plan for putting these lessons to work for you.