We've recently launched a new website for the Mike & Gillian Goodrich Foundation. It is an absolute honor to work with an organization that does so much amazing work in Birmingham and other areas of the state. We are thrilled to create a website that directly supports the important work this organization is doing.
The Mike & Gillian Goodrich Foundation needed an overhaul of their outdated site to a more modern and functional design and build. Their needs included the use of large images with parallax functionality to showcase their work and a content management platform that allows for in-house updates.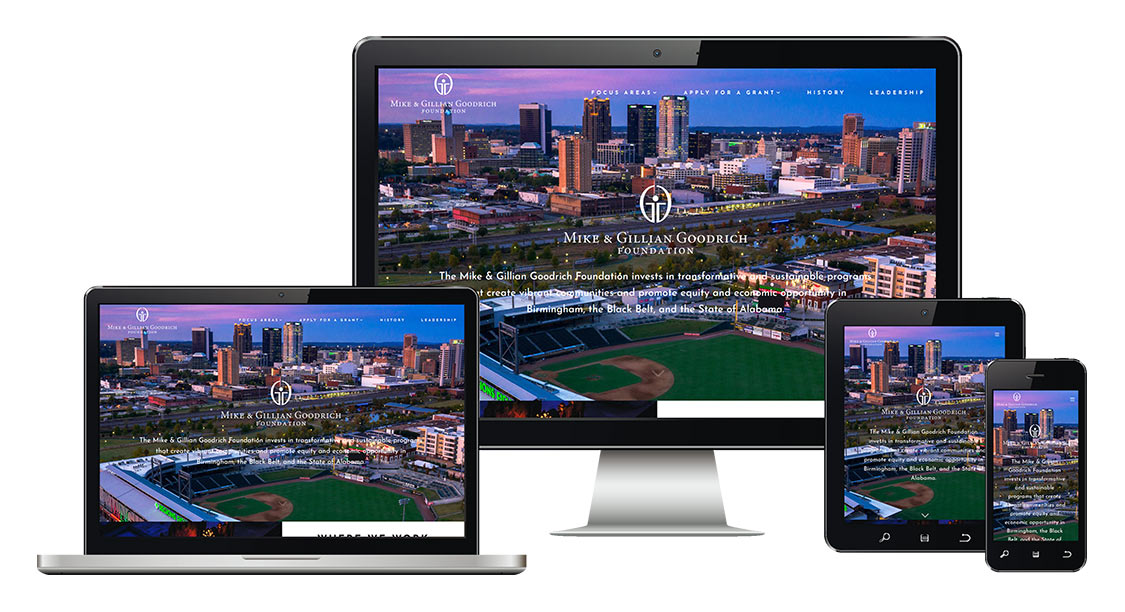 In keeping with the organization's commitment to Birmingham and supporting the people of this area, they sought out and used photography by local Birmingham photographers. This is such a great way to support local artists while ensuring that you have unique and high quality imagery on your website – not the same skyline shots that are readily available on stock photography websites.
Combining a theme with the parallax functionality built in with custom, local photography allowed for a professional and customized website at a lower development cost and time frame.
In Our Client's Words
"Alli and Kate with Dandelion Marketing helped us redesign our website into something beautiful! The entire experience was professional and thoughtful and I highly recommend Dandelion to anyone for their marketing needs. Alli was responsive and organized and patient with us to ensure Dandelion's work reflected our own thoughts and visions for the new site. She also came to us with recommendations for photographers and other third party vendors that we ended up needing that were just as high quality and professional as Dandelion. Their work was exactly what we were looking for and the entire process was smooth and efficient and I recommend Alli and the Dandelion team to anyone needing website or marketing assistance!"

– Casey Wright, Mike & Gillian Goodrich Foundation