It's a brand new year and business owners everywhere are setting big goals. If one of your 2023 resolutions involves marketing or growing your business, you're in the right place!
Each month of 2022, we shared a quick marketing tip in our newsletter and on social media. Today, we've gathered all those tips into one place to give you simple and actionable steps you can take toward growing your business in 2023.
Don't receive our monthly newsletter?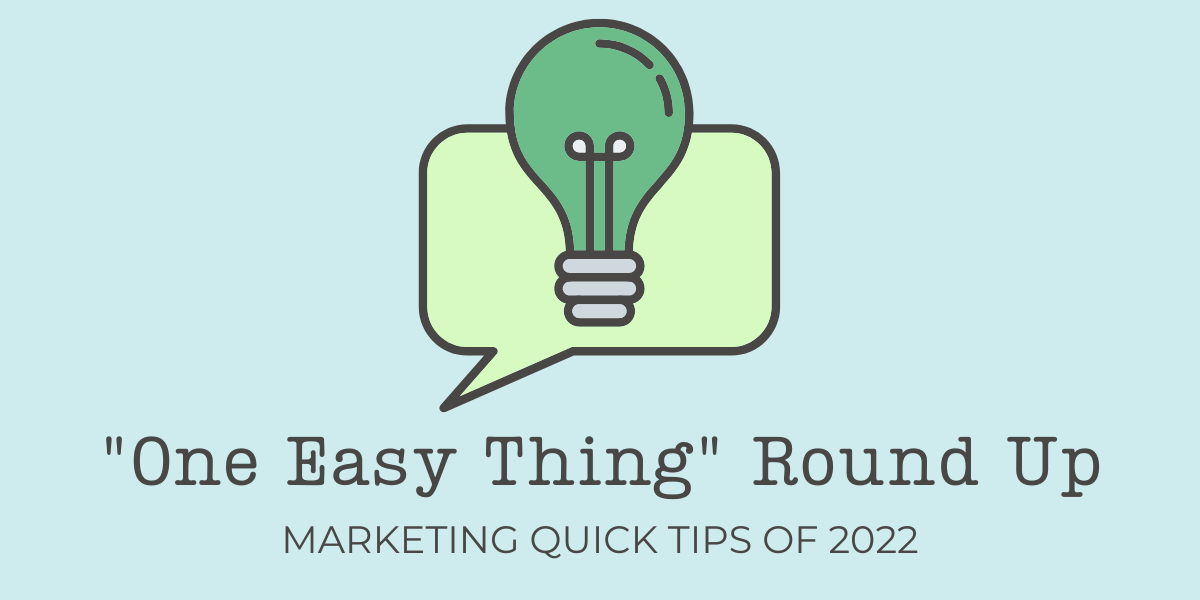 Review your website
Does any of the content on your website need updating? Does each page contain accurate information that reflects the current state of your business and supports your future goals?
Let's start the new year with an up-to-date site, containing accurate information about your team, hours, services, etc.
Test your website speed
A quick load time is a vital part of a good website for 2 big reasons:
If your website takes a second too long to load, people will click away. Our attention spans are comparable to that of a goldfish.
Google considers speed as a ranking factor, meaning that faster load times can help move your website up in search results.
You can test your website speed on PageSpeed Insights. Just enter your web address and it will give you a score on both mobile and desktop speed times!
If your score is low, no worries. We can help.
Check Your Domain Name Registration
Your domain name is one of your most valuable business assets—don't let it get away. A few minutes of housekeeping can save a lot of heartache.
Find the login for your name's registrar. Test the login to be sure it still works.
Once you are successfully logged into your registrar's account, do two things. First, double check your contact information, making sure that the correct person and email address are associated with official domain name communications. Second, make a note of your domain name's expiration date. Add an alert to your calendar several months in advance. Even better, turn on auto renew and confirm that your payment information is correct.
Invite your contacts to follow your company page on LinkedIn
For our B2B readers: Invite your personal contacts on LinkedIn to follow your company's page.
This is an easy and super fast way to widen the reach of your business. It takes less than three minutes!
Spend 10 minutes on LinkedIn
Spend 10 minutes on LinkedIn this week. Three easy things to do there:
Like and comment on a post (or two!) in your feed from an industry company or contact.
Share a post to your feed that is educational from your industry.
Connect with 5 new people.
Grab + use your QR code from Instagram
One easy thing you can do to build your Instagram audience is use your profile's QR code! There are so many ways to insert it into your communications—add it to your register at checkout, your business cards (or other printed materials) and slides in your presentation deck.
Optimize your Instagram bio name
Instagram update! You can now add more than 30 characters to your name in your Instagram bio. This allows you to further optimize your account for search on Instagram.
Here are the two things you'll want to have included in your bio name:
Your name or brand/business name.
Keywords your ideal follower would be searching for (Examples: Fitness Coach, Travel Planner, Website Designer).
Post a reel to Instagram
Reels get 22% more engagement than regular Instagram posts.
Feature a member of your team!
You are almost guaranteed to get more likes and comments on a photo that features a smiling face. So post a photo of one of your star players, include some awesome facts about the person in the caption, and watch the likes roll in!
Post to Your Google Business Profile
It's our quarterly reminder of how important this is for local businesses. An easy update to your profile is new photos; add a new photo (or 4!) to your Google Business Profile to keep things fresh. Engaging and contributing regularly with your local listing on Google is the best (free and easy) way to keep Google interested in your business.
Make review requests part of your process
Include review requests into your customer follow up processes! Make it easy for them by providing a clickable link directly to your reviews area on Google.
Review Your Hours
Review your hours in Google Business Profiles. Inaccurate business hours can lead to angry customers.
That's it! All 12 tips of 2022.
Need help implementing any of these marketing tips?