Spread The Word About Your Business

You've written amazing new content for your website (well done, you!). Now you're ready to begin reaping the SEO benefits of this fresh, unique and well-written content, right? Almost. It's important not to overlook some basic optimization of your content. Specifically, be sure to optimize three important areas: Page Titles, Page Descriptions, and Alt Text. There are obviously many other SEO factors that go into how well a website ranks in the results pages, but these three spots are particularly important and deserve their own mention. If you did nothing else but made sure these three things were a part of every new page or post on your site, you would be way ahead of the game.
Page Titles + Descriptions
First off, the page title and description should be unique to every page of your site and tie tightly with the content on that particular page. You can see where each of these ends up displaying in the search results here:

For a WordPress site, you'll need to have an SEO plugin installed so that you easily specify your title and description by page and post. Our two favorites are Yoast and All in One SEO. You'll want to keep your title to roughly 50-60 characters (including spaces) and your descriptions to roughly 50-160 characters. In both cases, they should be written to accurately describe the content on that page or post. Also, write compelling and persuasive text for the reader, encouraging them to take the desired action.
While the description tag is no longer a ranking factor with Google as of 2009 (along with the keywords tag), it can contribute significantly to the click through rate (CTR) of your site in search results. And CTR is a ranking factor.
Yoast
Yoast's title and description editor will appear at the end of you page or post. Simply open the page or post and scroll down on the editor screen until you see the Yoast SEO area.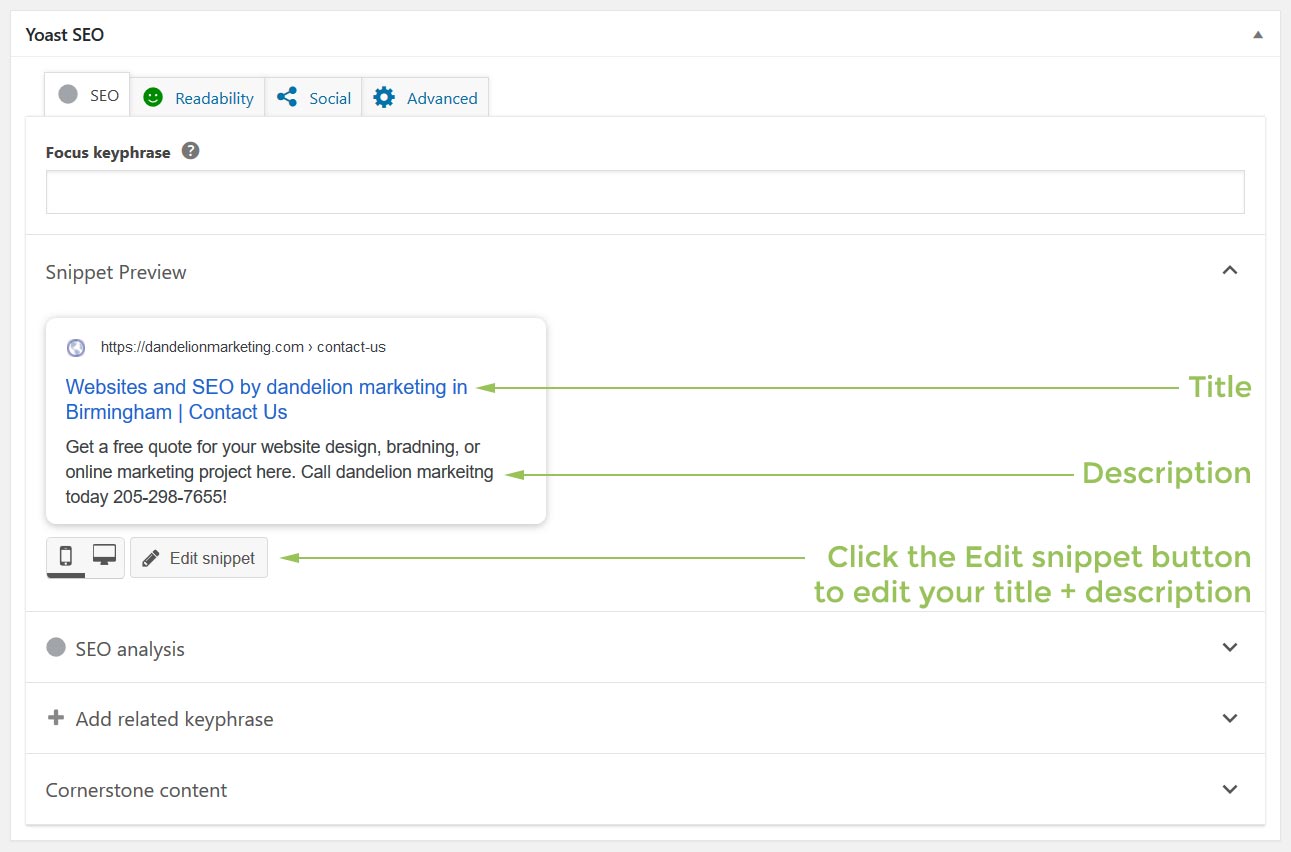 If your Home page does not have a physical "Page," you can edit your Home page's title and description by going to Yoast > Search Appearance in the left-hand WordPress menu.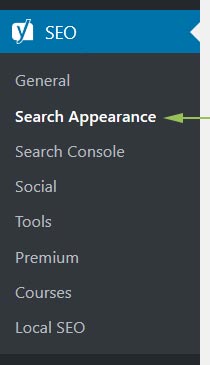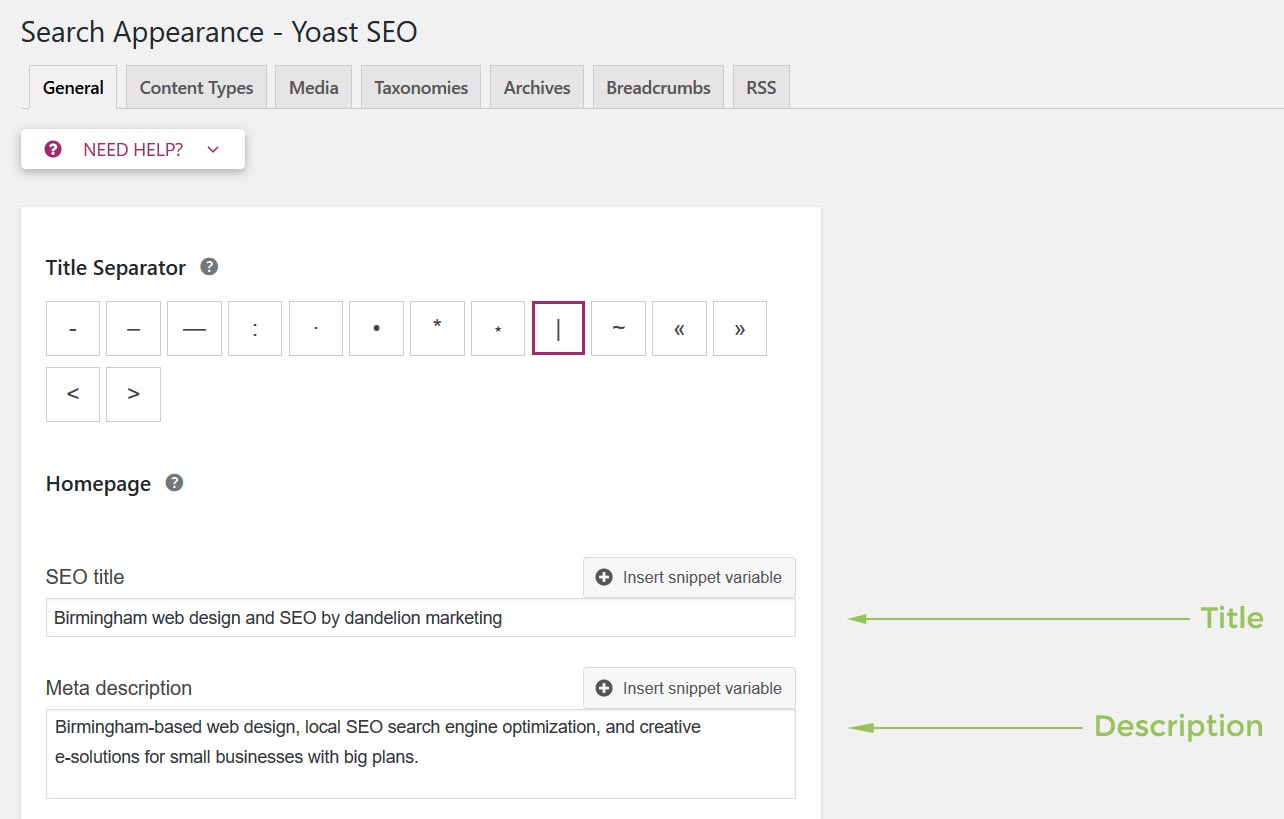 All In One SEO
A nice feature of All In One SEO is that the title and description settings can be accessed directly from your Pages or Posts screen.

It can also be accessed at the bottom of each individual page or post.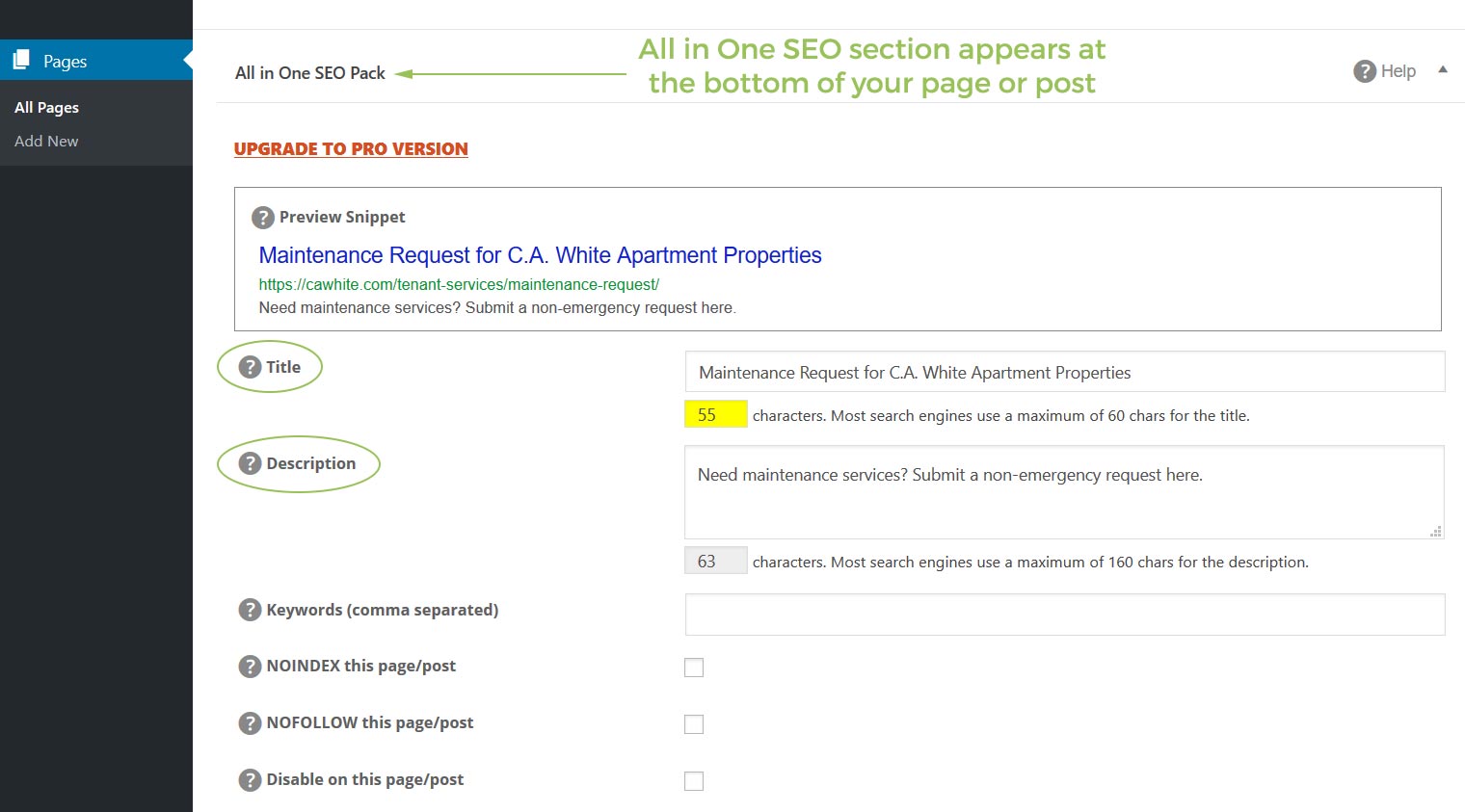 If your Home page does not have a physical "Page," you can edit your Home page's title and description by going to All in One SEO > General Settings in the left-hand WordPress menu and scrolling down until you see the "Home Page Settings" section.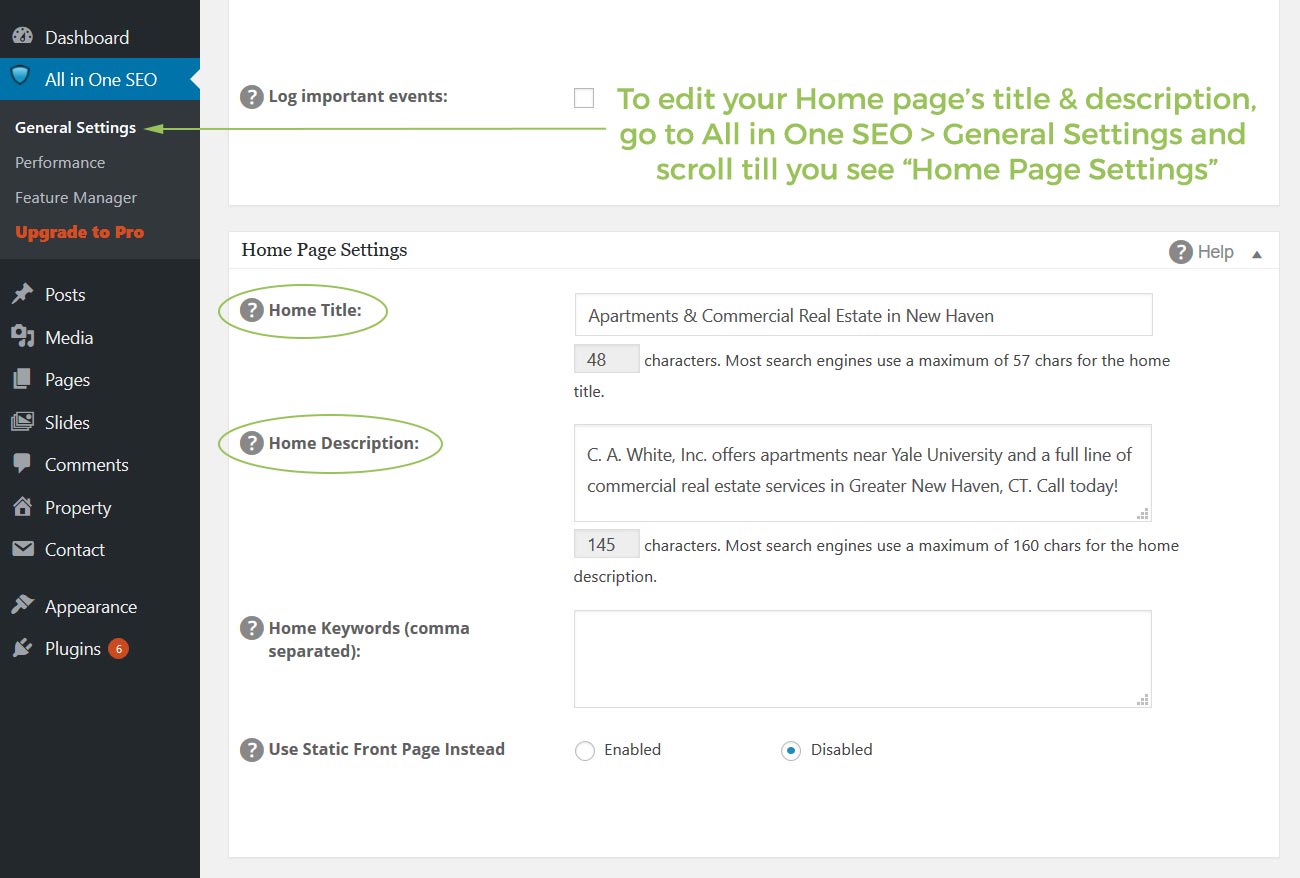 Alt Text
The Alt Text (alternative text) provides a written description of an image's content. The Alt Text makes a web page accessible for visually impaired users. Accessibility was its original purpose; a screen reader describes the image using the Alt Text. From an SEO perspective, the alt text helps search engines understand the content of your website's images and index those images accordingly. As we saw in the Mini SEO Case Study here, image search results can be just as valuable as the standard site links.
To set the image title and alt text, go to the image in the Media Library of WordPress.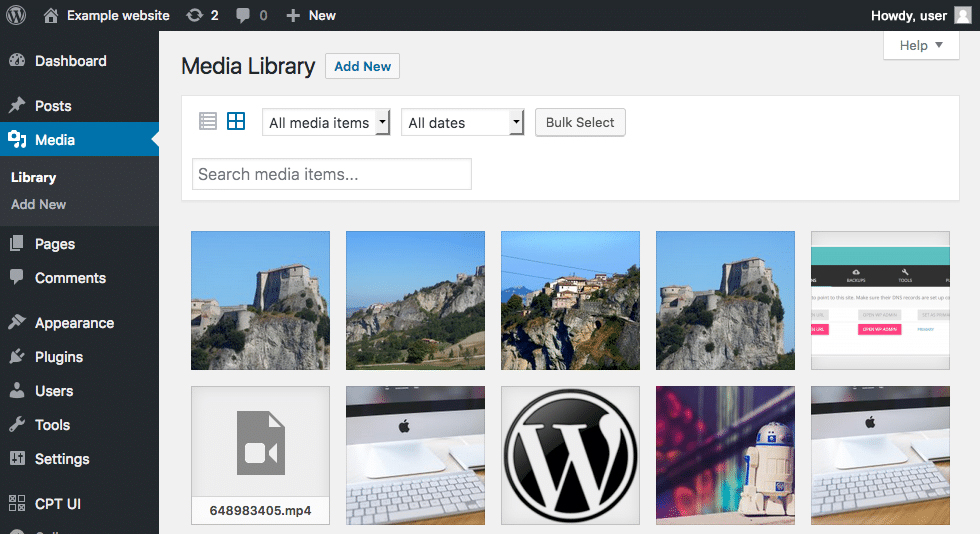 Next up, select an image to view its properties and add Alt Text.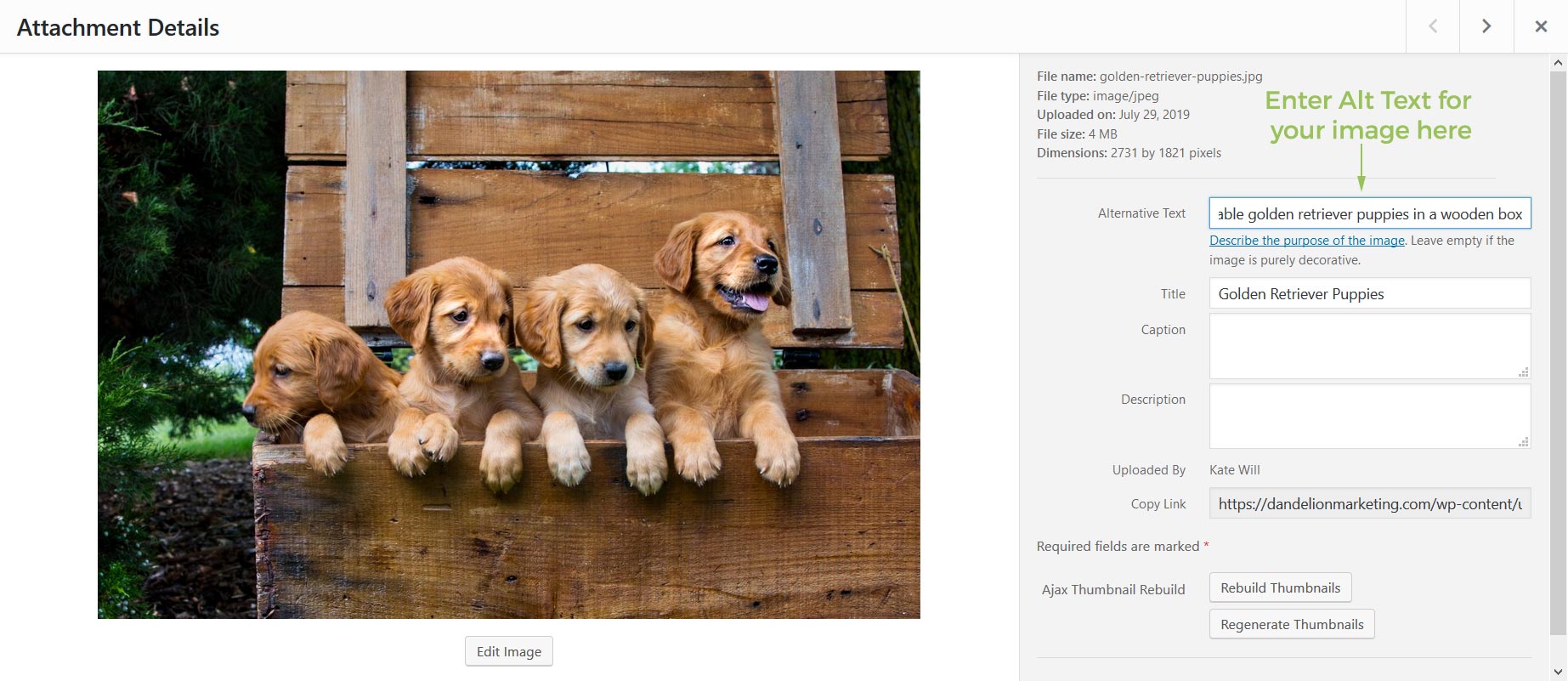 Ensuring that you've optimized these 3 spots in your website's content will add only a few minutes of time. That small investment of time can pay off tremendously if just one new customer finds your site as a result.
Let us know if we can help!