When working remotely, it can be difficult to get your employees communicating and on the same page. Implementing cloud based storage in your business can help! The cloud refers to systems that are accessed through the internet and stored on remote databases instead of the user's device. This enables users to access assets anywhere, anytime—as long as there is an internet connection. Here's how the cloud can help your team level up:
Benefits of Using Cloud Storage for your Business
Accessibility – This year's global health crisis has certainly highlighted the importance of worker mobility. Now more than ever, it is necessary for employees to be able to do their job fully from home or anywhere else, which is not possible if important documents are stuck on an office desktop. Implementing cloud storage for your teams will allow your workers to access their documents anywhere that they have an internet connection.
Collaboration – With documents being immediately accessible, your team members will be able to work together on projects in real time without the need for sending files back and forth. Having team members collaborate will allow staff to share knowledge and provide feedback, improving results and building unity in the workplace.
Security – Imagine having important documents stored on a desktop or external hard drive that ends up lost, stolen, or damaged. This would probably be devastating for your business! Cloud services offer an easy way for your team to back up their work so you can avoid disaster. Of course, with having your data online, the alternate security concern is hackers accessing your files. But rest assured—companies that provide cloud storage take great care to ensure that your data is secure!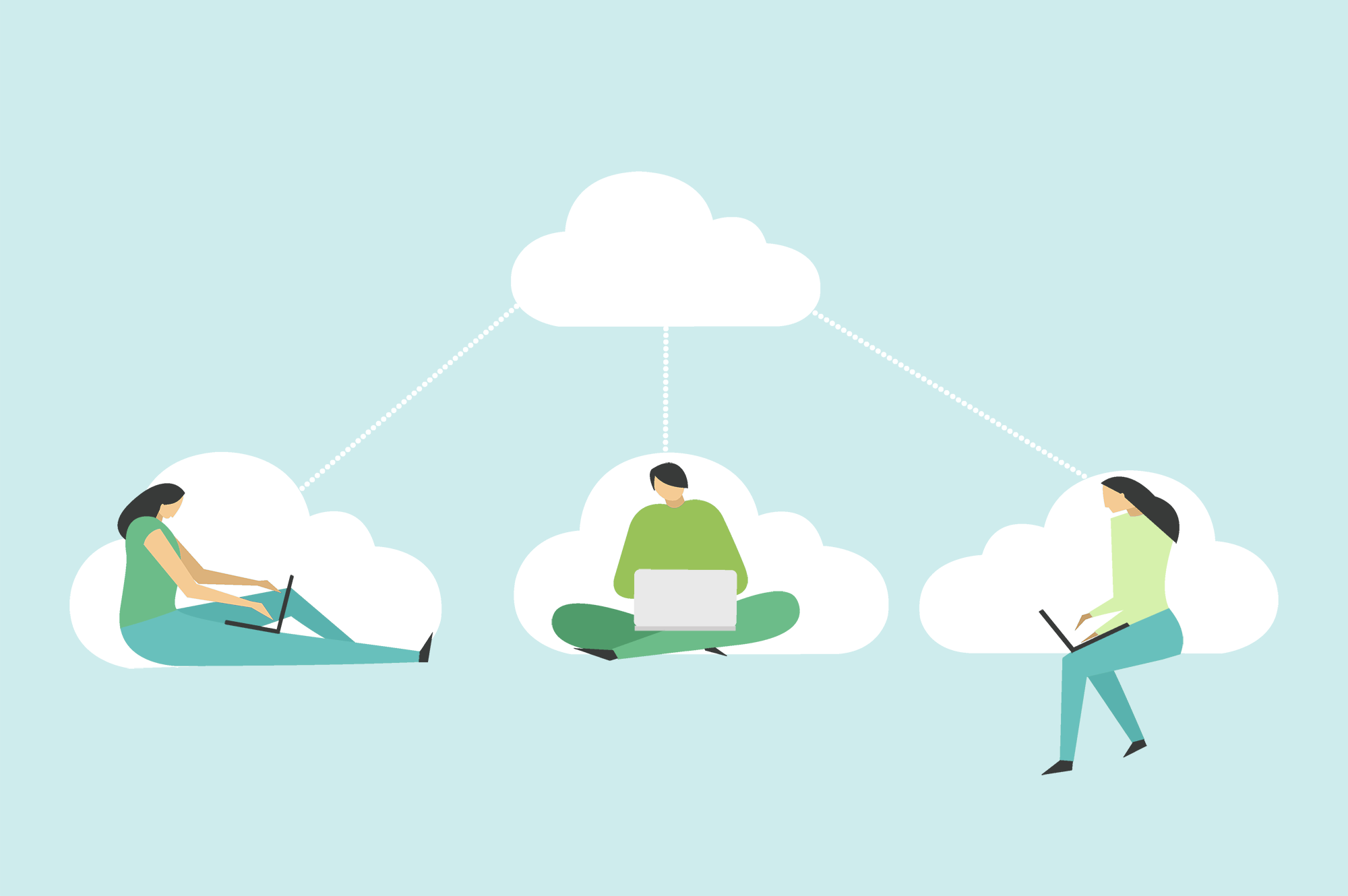 Cloud Storage Options
With all the options for cloud storage out there, choosing the best one for your business can be a challenge. To help you out, here's a quick breakdown of some of the most popular services on the market:
1. Dropbox
Dropbox is one the oldest cloud storage systems out there. It's simple and easy to use. It offers Smart Sync technology to ensure the most recent versions of documents are saved to the cloud. It also contains impressive management tools, allowing admins to easily grant or restrict access as needed. You can even share files with people who do not have a Dropbox account, making it ideal for distributing documents to clients or others not on your team. While Dropbox excels in file storage and sharing, ability to edit documents is limited compared to other alternatives. Not to mention the biggest downside of Dropbox: the cost. Business plans start at $15 per user for 15 TB of space, which, while not outrageous, is certainly not the best price on the market.
Pricing:
1TB for $15/user/mo
Unlimited storage for $25/user/mo
2. Google Drive
Google Drive is more than just cloud storage. It is also an entire suite of apps that allows you to create, store, and edit documents completely online for free, with capabilities of major Microsoft staples like Word, Excel, and PowerPoint. Sure, these online apps are not as powerful as the full-featured Microsoft programs, but they are free and likely contain all of the functions your team needs. Google Drive allows you to designate any folder on your computer for syncing and offers easy-to-use mobile apps to make viewing and editing your documents on the go a breeze. With their paid business plans, you get access to Team Drives, where your team can create shared drives for all their projects, making collaboration easy and keeping your work organized.
Pricing:
30GB for $6/user/mo
Unlimited storage for $12/user/mo
3. Microsoft OneCloud
For teams that choose to do their work with Microsoft products, OneCloud is probably the best option because of its seamless integration with Microsoft 365. Similar to Google Drive, OneDrive offers online versions of popular Microsoft programs to make creating and editing documents in the cloud simple. Collaboration is easy with OneDrive, as it allows for co-authoring and commenting to make communication between parties effortless. A business plan starts at $5 per user per month and grants 1TB per user, but for just $7.50 more per month, you can also get major Microsoft programs, such as Outlook, Word, PowerPoint, Excel.
Pricing:
1TB for $5/user/mo
1TB + Outlook, Word, Excel, PowerPoint, OneNote for $12.50/user/mo
Takeaway
There are tons of options for cloud storage on the market, each one with its own unique qualities. There is no one-size-fits-all solution, and finding the best one for your business might take some trial and error. But one thing is for sure: successful businesses utilize technology to their advantage, and companies that don't adapt, fall behind their competitors! So ask yourself: are you taking advantage of all the ways that cloud storage can help your business succeed?