Instagram has become one of the best marketing platforms around. With over 500 million daily active users, Instagram can make finding new customers and staying connected with existing customers a snap–if you know what you're doing. Whether you are a casual Instagram user or someone who has never even downloaded the app, this handy small business guide to Instagram will help you get the most out of your brand's Instagram presence.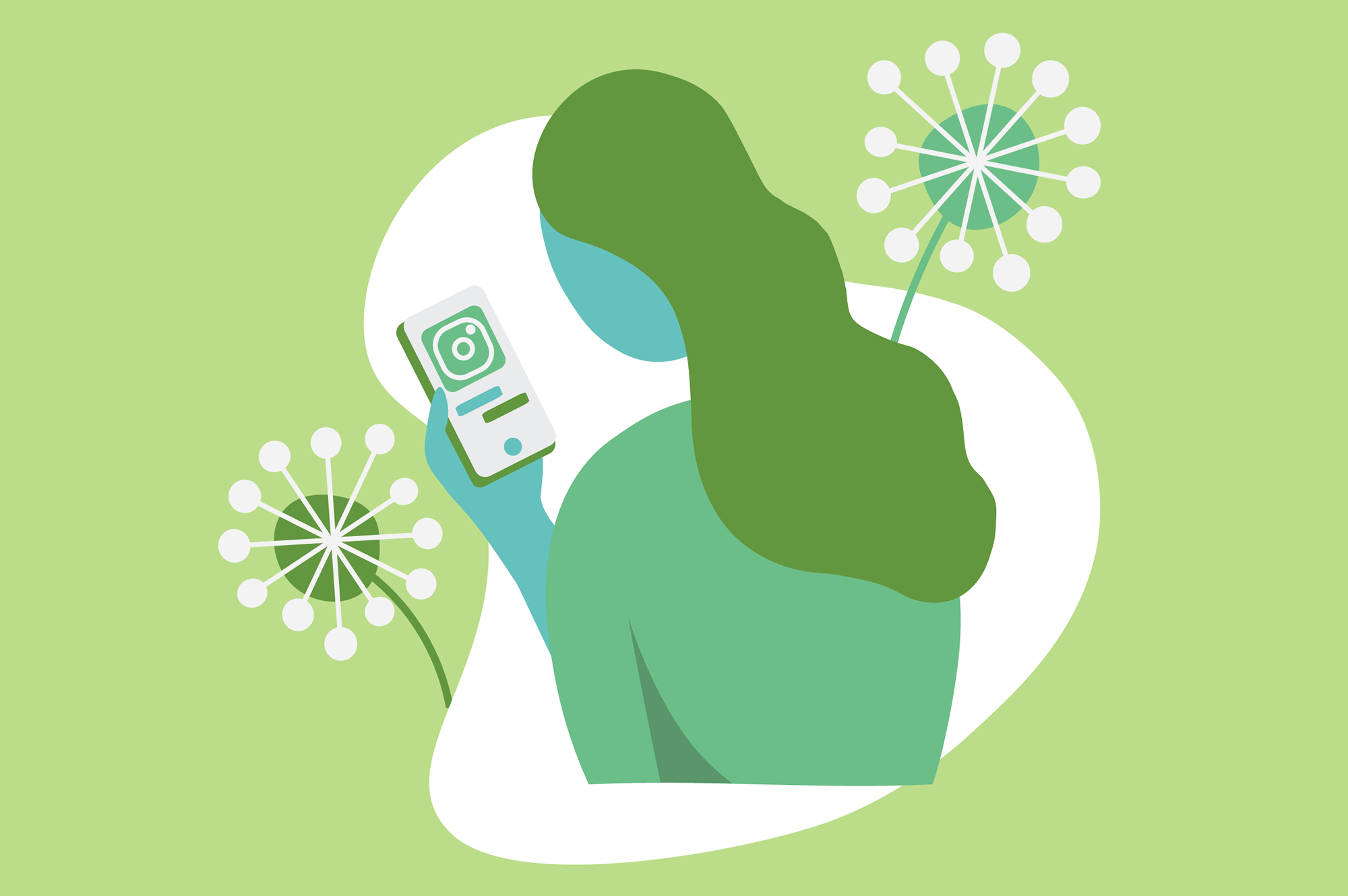 The Basics
This post is not intended for more advanced businesses users. Instead, it is meant to get the relative newbie off the ground and started in the right direction.
So for the total newbies out there: Instagram (IG) is a social media platform that focuses on photos and short videos. There are three ways to post on Instagram:
to your Feed (these posts will stay visible on your page),

to your Stories (these posts will be available at the top of the Instagram app for people to view. They will disappear after 24 hours), and

IGTV (used for longer videos—this is the least common type of post so don't worry about this one just yet).
IG has also recently released Reels (shorter videos (limited to 15 seconds) and their response to TikTok), which is brand spanking new. But it is still needs to be vetted, so best to hold off on that if you are just getting started.
Setting Up Your Instagram Profile
Before we start posting, let's talk about how to set up your brand's Instagram profile. When creating your account, make sure to set it up as a business account; a business account has slightly different features, including insights so you can see how your account is performing. Choose a username and profile photo that is easily recognizable as your company and make sure to add a link to your website. You can also add contact details, such your phone number, email, and address. For your bio, keep it short and sweet–just a brief description of your business! Check out our Instagram as an example!
It is important to post on Instagram on a regular basis—if possible, post to your feed daily. Use a free social media planning app like Later or Planoly to schedule your posts in advance! There are also some good paid options, like Tailwind. You may need to try a few to see what works best for you and your business.
If your company already has a Facebook company page, be sure that you link the two together. This allows for all sorts of features, including cross-platform posting and messaging. We will posting a How-To on linking your Facebook and Instagram profiles today, so keep an eye out for that in the coming weeks.
Let's Talk Content
Now, let's talk content. The best way to kill it on Instagram is to post good content. Always post high quality photos; anything less can damage your brand image. This can be professional photography, but most modern smartphones take pretty great photos too! The types of photos you might post will depend on the nature of your business, but some ideas to get you started include:
Product photos

Photos of staff or clients

Quotes

Behind-the-scene photos

How-To Videos

Infographics
(HOT TIP: Photos of people tend to perform well so feature members of your team regularly.)
Instagram Post Example
When posting on Instagram, try to avoid coming across as blatant advertising, and instead focus on content that your audience will enjoy and that shapes your brand image. Of course you want to feature your products and services, but do so in a way that won't be off putting to your audience. Check out this post from the popular online furniture retailer, Wayfair, on National Dog Day (bookmark a National Days website to check for fun ideas that you can tie into your business). See how they created a post that their audience would enjoy, while still subtly featuring their products? Who doesn't love Italian Greyhounds (or dog pics full stop, for that matter)?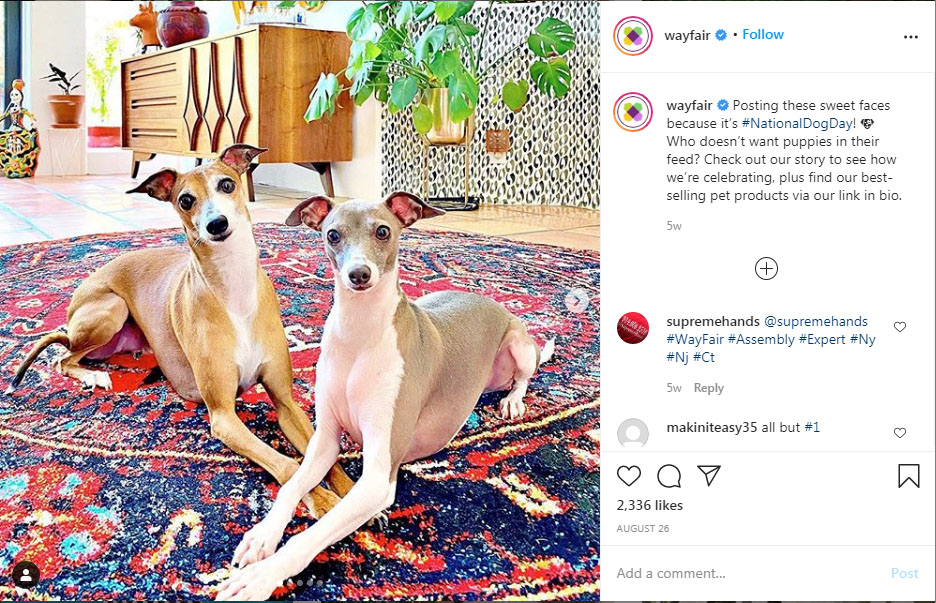 Don't Forget About Stories!
Stories are a great way to engage with your audience in a more personal way. The Instagram story function includes tools that allow you to create a more interactive experience for your followers, such as polls and responses boxes. Stories are also a great place to post behind the scenes photos/videos to give your company a little personality.
Consider creating story highlights for your page. Usually a story will disappear after 24 hours, but if you add it to a story highlight, it will remain at the top of your page. Story highlights are a great place to feature anything that you want people to see each time they visit your page, such as photos of your product or service. 
Look at how Halo Top set up their story highlights with branded icons. They'd even managed to use the marble-top texture in the background.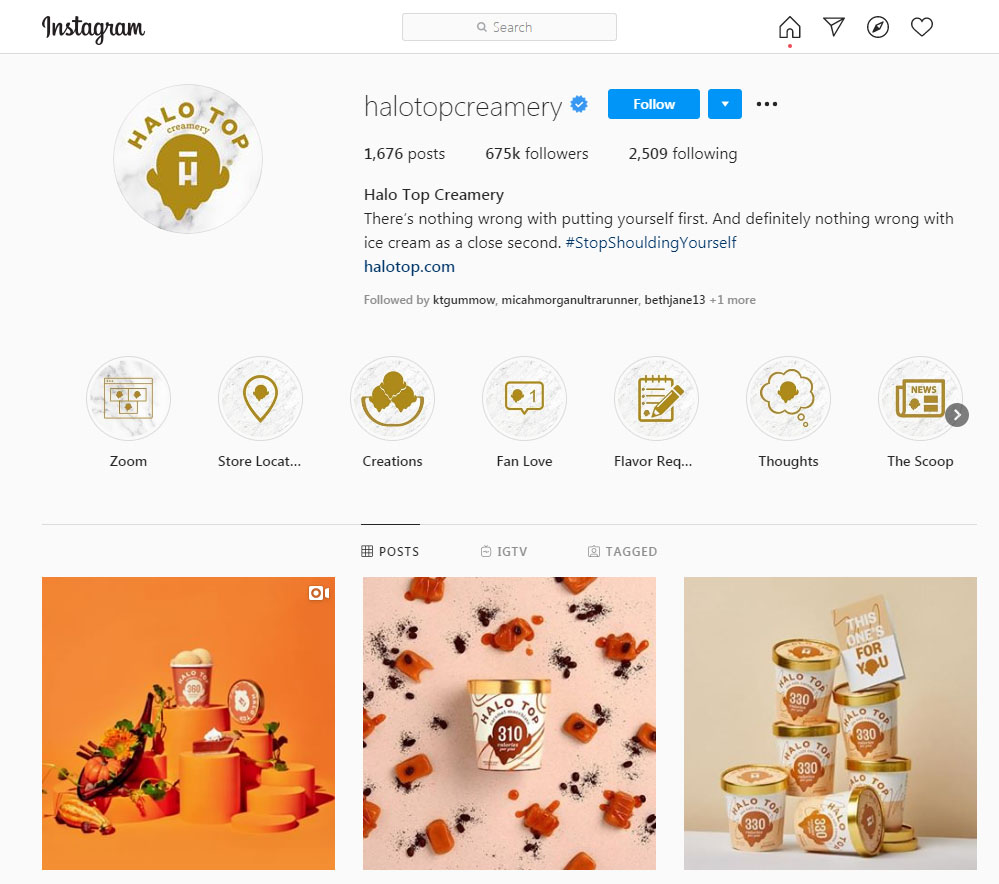 Helpful Instagram Tips
Run Giveaways to increase your following. Having your followers tag a friend to enter your giveaway contest is a great way to get your page in front of more eyes. It can be a good idea to partner with an influencer in your industry that has a similar audience to yours to expand the reach and awareness about your giveaway. You can reach out to potential partners via direct message.

Have a consistent theme. Instagram is a very visual platform so try to plan your feed posts in advance, using similar colors and filters to create a cohesive look.

Hyperlinks do not work in Instagram captions or comments, but they do work in your bio (well, one works). If you want your users to click a link, add the link to your bio and encourage your readers to click the "link in bio" in the caption of your post.

Create a branded hashtag and encourage your fans to use it when posting about your business. This is a great way to gather user-generated content to repost to your page, easing the burden of content creation.

Use hashtags to widen the reach of your posts. You can use up to 30. We'll also be doing a how-to on hashtags, so #comebacksoon.
Online Instagram Training
We couldn't begin to cover all the bases in this short piece. Our goal is to give you the highlights and point you in a variety of directions to find more resources as you are ready to dig deeper on specific topics.
There is so much amazing material online to help you learn more and do more with Instagram. One our favorite resources are the videos by Social Media Examiner. They take small, individual topics and make short and fun videos to help you master all the ins and outs of Instagram. Here is a link to their treasure trove of Instagram training videos.
Depending on your industry and audience, Instagram can offer a very effective way to reach and connect with potential new customers. I'm typing up this post in a coffee shop and right now I can see two people scrolling through Instagram from where I sit. In a previous post, we talked about why you should "fish where the fish are" and I'm here to tell you, the fish are probably on Instagram. And your brand should be too. So what are you waiting for? Start posting!
Does this all sound a little overwhelming?
Like something you don't have time to learn?