Instagram hashtags can be confusing for the small business owners I talk to regularly. You probably already know this much, but a hashtag is a combination of letters and/or numbers that is preceded by the # symbol.
For example:
#supportlocal
#shoplocal
#whatintheworldisahashtag
You get the idea.
When you click on a hashtag, you will be taken to a page that shows all the posts with that hashtag in reverse chronological order (newest first). Avid Instagram users browse hashtags frequently to find new accounts with content that might interest them.
The benefit of thoughtful hashtag use for a business owner is pretty straightforward: discoverability. There are millions of people on Instagram and most of them have no idea who you are. Using hashtags efficiently is a chance to get your page in front of new eyes. The more people see your Instagram page the more people are aware of your business and the more potential you have to gain new customers. It's as simple as that.
Unfortunately, the hashtag strategy for many small businesses is equivalent to throwing pasta at the wall to see if it will stick. Tacking hashtags onto your post randomly is unlikely to be helpful and could actually hurt your brand's reputation and/or visibility, so it is important to put a little effort and thought into how you use hashtags on your Instagram posts. Not sure how to do that? You're in luck! We are about to teach you.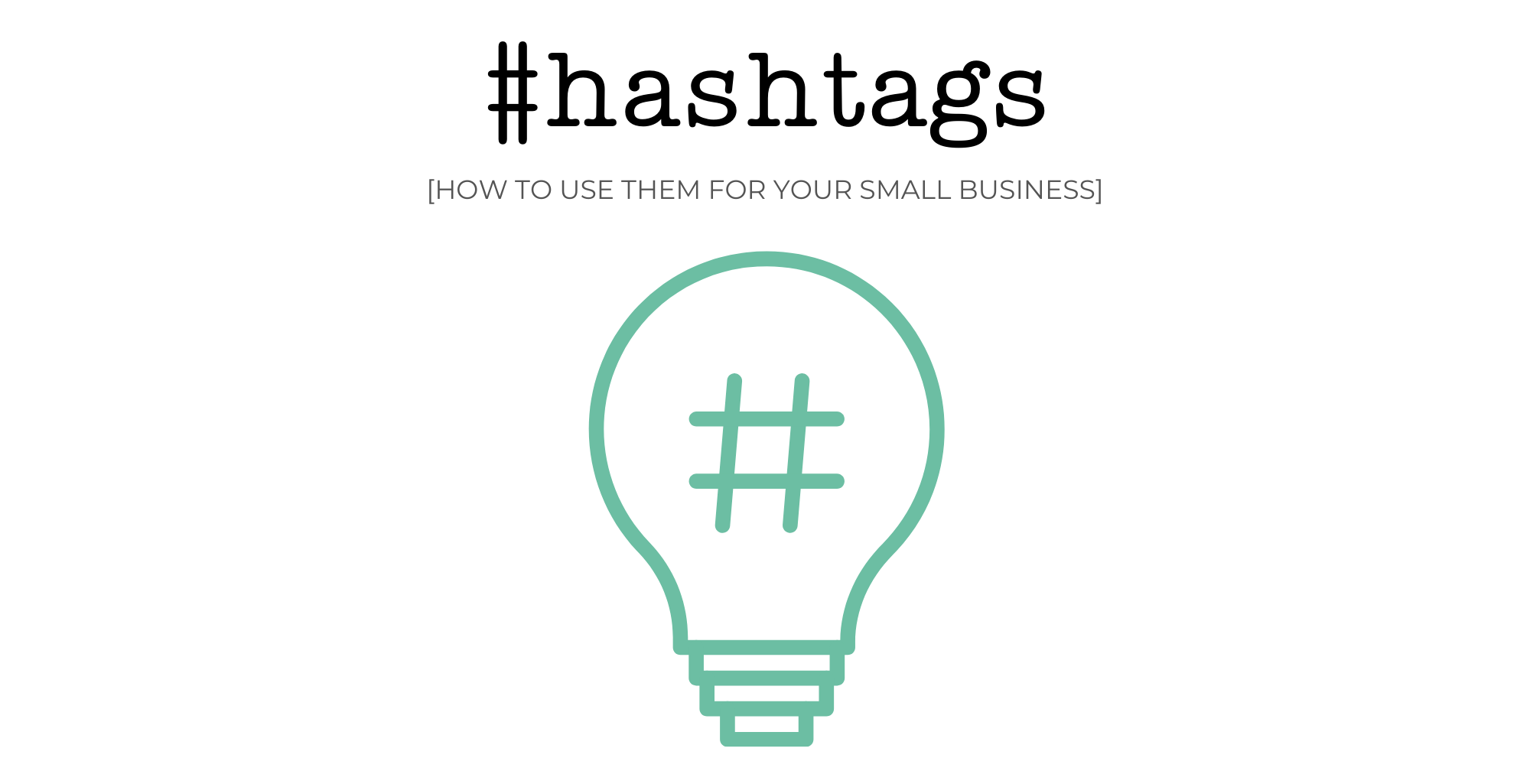 Choosing the Right Hashtags for Your Business
Each Instagram post can contain up to 30 hashtags. Some people believe that you should use all 30 hashtags in every post, while others believe that this can come off as spammy. Regardless of your opinion on that, we do recommend using at least a few hashtags in each post to help your content reach a broader audience. To help you choose the perfect hashtags to use in your post, let's identify a couple different types. I find it helpful to think of hashtags in five categories:
1. Brand Hashtags
A brand hashtag is a hashtag that you create that represents your business. You should add your chosen brand hashtag to your Instagram bio and encourage customers to use the hashtag when they are talking about your business online. Your brand hashtag can simply be #yourbusinessname, but we recommended being a little more creative. We love how the popular athleticwear brand Lululemon chose the hashtag #thesweatlife as their go-to brand hashtag.
2. Content Hashtags
These are hashtags that describe or are related to the content of the post. For example, a small coffee shop that is posting a photo of their latte art, they could use the hashtag #latteart. Pretty self explanatory.
3. Industry Hashtags
Industry hashtags are simply hashtags that describe your field of business. If you are a photographer, you might hashtag #photographer or #weddingphotographer. If your target market is local, you might want to make these hashtags location specific (#birminghamweddingphotographer) to reach people in your area. Industry hashtags are great because people often search them when they are looking for someone to do business with.
4. Community Hashtags
These are hashtags that are commonly used by the community you are trying to reach. If you are a female-centric brand with a message about female empowerment, you might use the hashtag #womensupportingwomen to reach your target audience. If you are trying to reach local customers that want to support small businesses, you'll want to use hashtags that narrow in on that community (see our section below for some Birmingham area suggestions).
5. Trending Hashtags
Sometimes a hashtag will be trending when there is a big event or lots of people are talking about a specific topic. If you can find a creative way to use these hashtags in a way that is relevant to your brand, then go for it! But do not use a hashtag when it is not at all related to your content, as that could damage your online reputation. And be careful to fully understand the context of the trending hashtag to avoid a PR disaster, like when the baked goods brand Entenmanns tried to jump on the hashtag #notguilty back in 2011. Turns out that hashtag was related to the conclusion of the Casey Anthony trial. Yikes.
Birmingham Specific Hashtags
As most of our clients are local businesses trying to reach local customers, we compiled a list of common Birmingham, Al specific hashtags for you to use in your posts:
#bham
#bhamal
#birminghamal
#birminghamalabama
#birmingham
#alabama
#magiccity
#shoplocalbham
#bhamgram
#thisisbham
#bhamnow
#bhamstrong
#bhamlife
Location-based hashtags are a great way to connect with your community, so choose a couple from the list above and start tagging!
Helpful Tips
Always check your hashtags. Simply search the hashtag you want to use in the Instagram search bar to see how others are using it. The last thing you want is to craft a great hashtag and then realize after the fact that it is already associated with something else.
When you search a hashtag, Instagram will tell you how often it has been used. The extremely common hashtags (Over 1 million posts) will get your post in front of a lot of eyes, but only for a few moments, as it will soon be pushed down the list as others use the hashtag. Rare hashtags (under 100k posts) will not be searched as often, but your post will rank higher in the list for much longer. We find it helpful to use a combination of common, average, and rare hashtags.
Avoid "banned" hashtags. Sometimes Instagram bans hashtags for a variety of reasons. Make sure you are not using a hashtag that is on that list, as it will be ineffective and could even make the Instagram algorithm work against you.
One final point before we wrap this up: hashtags are not magic. You should use them because they might get your post in front of more eyes, but they will probably not double your engagement or gain you thousands of followers. It is far more important to make sure you are posting interesting and engaging content that will appeal to your target audience. Hashtags are just a helpful little bonus.
Does this seem like too much work?