A Guide for Local Businesses
If you are a local business trying to attract local customers, your online marketing needs a local focus. With limited resources, it is vital that you spend your time and money in the most efficient and effective ways. There are some basic Local SEO steps that, if followed regularly, will help keep your business in front of potential customers online. If you do no other marketing, you should include the following: claim, optimize and engage with your local listings in Google My Business and Yelp.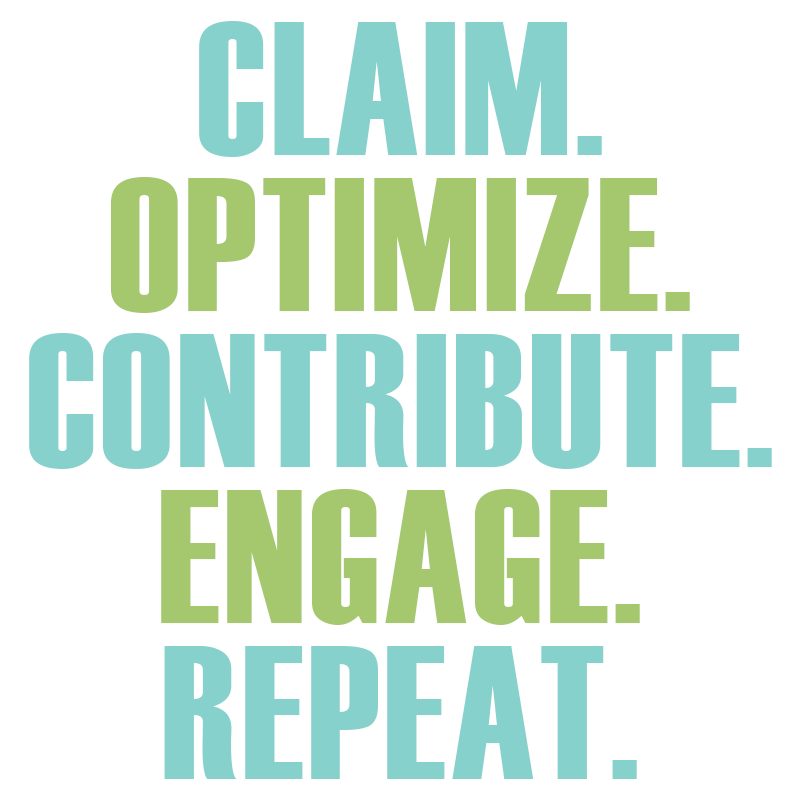 Claim and Optimize Your Local Listings
There are a ton of local business directories online. Given unlimited time, you could work on claiming and optimizing them all. However, in the interest of efficiency, there are just two that will have the most impact. Keep it simple, and make the most of these two.
Google My Business
If you have not claimed your business listing in Google, do that today. The listings in Google My Business (GMB) are auto-created based on business phone numbers and a number of other data sources, so you likely have a listing out there, whether or not you've claimed it.
Before creating a new listing, you need to confirm if one exists already. Not sure if a listing exists or if you've claimed it, go to the link below. Be sure that you are logged into Google (with the Google account you want to use to manage the listing) when you follow the link below.
Do a search for your business name in the field provided. If a listing exists, it will show and prompt you about claiming and verifying, or it will tell you that it is already claimed. If it has already been claimed, it will give you a snippet of the email/account that did so. If you are lucky, it will be an email address you recognize and can login from there.
In some cases, you will be required to verify the listing using a PIN that Google mails to you by snail mail. Warning: the postcard with your PIN looks like junk mail, so be sure to make the person that sorts your mail aware that you are expecting it.
Yelp
To many readers, I am sure that marketing in Google is an obvious suggestion. Yelp might be a little less obvious. But there are some very compelling reasons to give Yelp some time and attention. The most important of these reasons is their integration with online partners like Apple Maps, Siri, Amazon Alexa, and many onboard car navigation systems. Learn more about Yelp's partnerships here.
As with Google, you need to start by claiming your business listing if you have not already done so. You can do that here:
Once claimed and verified, make sure that all the information is accurate (your address in these online listings should match the address shown on your website exactly) and complete in both platforms. Fill in any missing pieces, upload pictures, use the business description, categories (choose all that apply), hours of operation, and product and service areas to fully describe your business and what you do. Again, make sure you complete all areas available to you.
Both GMB and Yelp have apps that make using the platforms easy from your phone. You can turn on notifications so that you know when activity has occurred on your listing, such as new reviews or customer messages, that need your attention and response.
Contribute, Engage and Repeat
While claiming and optimizing your profile information is vital, you cannot neglect the ongoing use of these platforms for your business – contribute, engage, repeat. It is this LATHER-RINSE-REPEAT that will keep your name visible and the phone ringing.
This is particularly true for GMB where these options are free for you to use. Ongoing engagement with your Google My Business page includes two important pieces:
Review Management
Google Posts
We cover both of these topics in separate posts:
Yelp hides many of its features behind paid access, so you'll need to decide if it is worth it to implement some of their upgrades. They run (as of today) about $5 per day for the basic Page Upgrades, and you can cancel them anytime. So, you can try them out for a month (roughly $150) to test their return for your business. Their new product, Yelp Connect, which adds a news feed to your business listing, is a separate upgrade and runs $99 per month.
In summary, it is critical for local businesses to verify and optimize their local business listings to stay visible online for local searches related to your business products and services. For Google, where the ongoing use of the platform is free, you should share and engage on an ongoing basis. While local SEO certainly includes many other factors and tactics, these two platforms and your listings in each serve as a starting point and should be a first step for all local businesses.
As always, we are here to help.