Have you downloaded our 2022 Social Media Content Calendar?
If you are managing the social media profiles for your business, download it now! It's free, and it's going to make your life much easier. Our content calendar provides social media content and strategy ideas for every day of the year as well as a list of 2022 holidays, so you will never run out of content ideas for your small business again.
For those of you who have downloaded the content calendar, here are our top tips for making the calendar work for you and your business.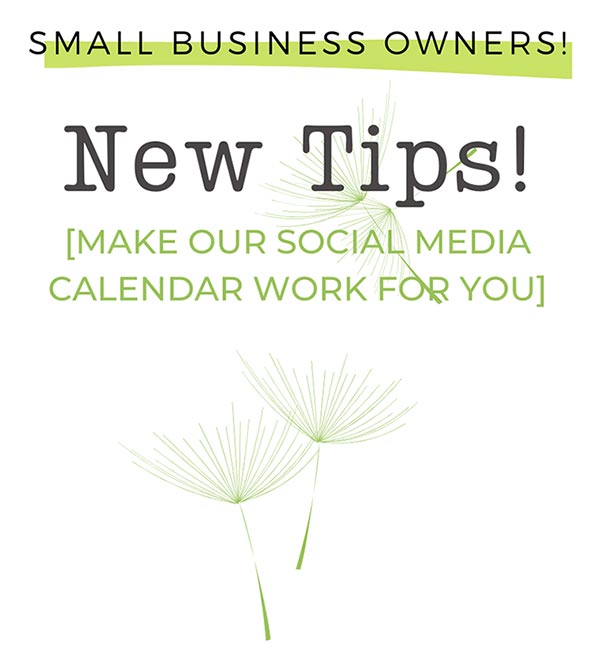 Tips for Using Our Social Media Calendar
Use Scheduling Software
Make planning and posting easy and free up your weekends with scheduling software.
Don't get caught up in the daily stress of maintaining a social media account. Take a day (or a few days) per month to create + schedule content in advance. Use a scheduling service like Buffer, Later, or Planoly to automate some of your content.
Standard, single-photo social media posts can be scheduled in advance for automatic posting. Carousel (multi-image) posts can be scheduled in advance but will not automatically post. For carousels, most schedulers will send a notification to your phone containing the photos and caption, allowing you to easily post them manually. Some services allow you to schedule stories in this same way. Reels must be manually posted and cannot be scheduled.*
If you're posting on the weekend (or other off days), make sure to schedule single-image posts so that no action is required during your time off.
*This info is specific to Instagram. Scheduling ability may vary depending on the platform.
Pick Your Holidays
During the last week of each month, scan through the next month's holidays and circle any that are relevant to you and your business.
You'll notice that there are holidays for every day of the month. You don't need to post for all of them of course, but you can certainly find some that will make sense for your business. You could even use a holiday as an excuse to run a sale or promotion (see how Krispy Kreme and Dunkin celebrate National Donut Day, for example).
Canva, Canva, Canva
Canva is hands-down the fastest and easiest way to create graphics for social media. Use it. You can create a graphic from scratch, or you can use one of their premade templates. They offer a free version that is fantastic. If you want to spring for the pro version, it is very affordable and comes with tons of extra elements and functionalities.
Bonus Canva Tip: While Canva is a great tool, we recommend being careful with their premade templates. You don't want your posts to look like a Canva template. So, be sure to customize it to your brand with your colors, fonts, and images.
Don't Skip the Reels
Reels are currently the best way to increase reach on Instagram, so we made sure to include them in the content calendar. Don't skip them!
We recommend using a third-party program to edit your reels. We use Canva desktop or the InShot app for cutting video, creating transitions, and adding text. Using one of these programs is much easier than trying to do it in the Instagram app. Trust us.
We have several posts on creating reels if you aren't sure where to start.
Do What Works for You
There is no one-size-fits-all social media strategy. Feel free to follow this calendar as closely (or as loosely) as you need. We've included an editable version of the calendar so you can customize it to your individual needs!
Our social media content calendar will make it easier than ever for you to create content and establish a better brand presence on Instagram (and any other social media accounts you use).
We hope you love it! If you have any questions about using the content calendar, reach out!
Grab the Calendar Here!